By Gena Gibbs, Bahamas Information Services
NASSAU, The Bahamas — Hundreds of Bahamians packed the audience at the University of The Bahamas' Harry C. Moore Library Auditorium on Monday evening at a Bahamas Bar Association 2018 Legislative Discussion Forum to hear presentations by Minister of State in the Ministry of Legal Affairs the Hon. Elsworth Johnson, Jamaica's former Solicitor General the Hon. Michael Hylton, Q.C., and Wayne Munroe, Q.C. speak on the importance of incorporating public discussion with respect to 'Interception of Communications Bill' (dubbed 'The Spy Bill' by the media).
Said Mr. Johnson, "The Office of the Attorney General, which is responsible for advising the government during the legislative process, is committed to comprehensive public consultation on this bill and other proposed legislation."
He added that a random constituent poll revealed that anywhere from 70 to 80 percent of those polled, had no idea what the 'Interception of Communications Bill' or "Spy Bill" actually was.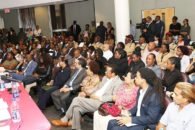 "I am obviously the lone governmental representative in my position as a Minister of State and I fully endorse a comprehensive and modern Interception of Communications Law, as a vital part of the toolkit for fighting sophisticated technologically savvy criminals," he said.
"It does not mean we are not open to hearing concerns and suggestions that may ultimately improve the final draft of this legislation.  That is why forums such as this are vital and important."
Mr. Johnson said the Privy Council recognized that privacy and freedom of expression are linked and those who fall below a certain level of income must have their rights protected.
"The protection of privacy and freedom of information are fundamental rights, enshrined in the Constitution of The Bahamas and long recognized by the Common Law," said Mr. Johnson.
Mr. Johnson stated, "All of the jurisdictions, which have implemented similar legislation, have experienced significant 'pushback'. These include the UK, Canada, Australia, Jamaica, and some of the other Caribbean territories.
"When the last administration brought this legislation, especially the timing of the legislation, there was significant 'pushback' in the community. I have to admit I was one of them," said Mr. Johnson.