Jean Rony Jean-Charles tearfully embraced his family for the first time in months, moments after he was released from custody pending the outcome of the government's stay application.
After approximately 45 minutes of arguments before Supreme Court Justice Gregory Hilton, legal counsel for the government agreed that Jean-Charles would also not be deported while a decision is made on the governments application, to stay a ruling made by Justice Hilton last week.
That hearing is set for Thursday at 10 am.
Lead counsel for the government, Loren Klein, QC, initially requested that Jean Rony report to immigration officials once a week, however, Jean- Rony's lawyer Fred Smith contended that his client was not a criminal and the "invisible leash" the government was intending to place on his client, was "offensive and absurd."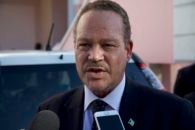 Attorney General Carl Bethel and Minister of State for Legal Affairs Elsworth Johnson were present for the hearing.
After court, Bethel said the substantive issues in the matter are whether Jean-Rony was lawfully detained, whether he was lawfully placed in the detention center and whether he was lawfully deported.
"This will be fully ventilated and determined in the Court of Appeal. This court has made its ruling, we are appealing against that. So the issues that excite people's minds have yet to be determined by the highest court in the Bahamas," Behtel said.
"I will also say, pending that, people should just allow the law to take its course. Look at the facts of the situation, Mr. Rony is 35-years-old, the constitution only provides an entitlement or right for persons when they were born here when they reach 18 and between the age of 18 and 19.
"We are in a position that is uncovered by the Constitution or the law of the Bahamas and so the decision in this matter will have ramifications and it will be an important decision by the Court of Appeal and it will more importantly guide the legislation in terms of any changes that may be needed to clarify the law of what happens with person who is in the Bahamas after their constitutional entitlement ends without having made an application."
Jean Charles was represented by QC's Fred Smith and Damien Gomez, and Loren Klein, QC, and Gary Francis represented the government.
Jean Charles became the center of controversy after he was picked up by immigration officials last September and subsequently deported to Haiti. Jean Charles was born in The Bahamas but has never applied for citizenship.
He returned to The Bahamas on Saturday afternoon after Justice Hilton ruled the government return Jean- Charles to the country and grant him status to once he makes an application.
Upon his return to the capital Jean-Charles was arrested and taken to the Carmichael Road Detention Centre. The arrest followed an emergency stay Justice Hilton's ruling ordering his return, which was granted on Saturday.