GRAND BAHAMA, BAHAMAS — Israeli-based NGO IsraAID recently made a donation of supplies to public schools on Grand Bahama in an effort to help with the country's fight against COVID-19.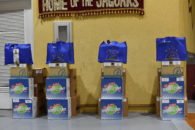 The donation included supplies such as antibacterial gel, face masks, gloves and thermometers, and is intended to "benefit more than 2,400 students and ensure they can concentrate on their studies in a safe, healthy environment".
"As communities in The Bahamas still struggle with damage dealt by Hurricane Dorian in 2019 which severely affected the lives of thousands in the different islands, the COVID-19 public health crisis exacerbated the need for humanitarian assistance," said the NGO.
"As was the case in the immediate aftermath of Hurricane Dorian, the State of Israel together with the Israeli NGO IsraAID, decided to step in and assist The Bahamas — this time in its COVID response efforts.
"Together with the Ministry of Education of The Bahamas, the parties conducted a needs assessment and accordingly provided a donation of PPE (personal protective equipment) to ensure the safe return of students ages 10 to 18 at secondary public schools in Grand Bahama."
A handover ceremony for the donation took place on Tuesday at St. George's High School gymnasium, during which Grand Bahama District Superintendent Ivan Butler thanked the State of Israel and IsraAID on behalf of the government of The Bahamas.
In a pre-recorded message, Ambassador of Israel to The Bahamas H E Zvi Tal said the State of Israel is "conscious that maintaining the educational system running is of the utmost importance and committed to sustainable development goal four — calling to ensure inclusive and equitable quality education".
"It is our immense pleasure to allocate the procured items to this project," he said. "Along the constant strengthening of the bilateral relations between the two countries at the institutional level, it has been the wish of the Embassy of Israel to the Bahamas, last year in the aftermath of the havoc wreaked by Dorian, and now during COVID-19, to modestly assist the population of the Bahamas."
IsraAID country director Imri Grinberg during the ceremony also spoke to IsraAID's ongoing work with the Ministry of Education.
According to the NGO, this most recent gesture is the second donation of PPE to Grand Bahama schools; the first in October provided supplies to primary schools on Grand Bahama and Grand Cay.