A three-day job fair in the capital and Grand Bahama, in which officials said nearly 150 persons will find "gainful employment" on Ocean Cay near Bimini, is set to begin on Wednesday.
At a press conference yesterday, Labour Director Robert Farquharson said, the project will provide temporary as well as permanent jobs for hundreds of Bahamians.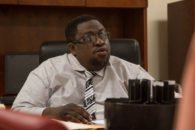 Last year, the Christie administration broke ground on the $200 million Ocean Cay development which is said to encompass a cruise port, boutique hotel and marine park.
Bouygues Bâtiment International SA, is constructing the development.
The first job fair will be held at the Department of Labour tomorrow in New Providence and Thursday and Friday in Grand Bahama.
"We want to encourage Bahamians – job seekers who need employment – to come between 11:00 a.m. and 4:00 p.m. and sign up and be interviewed for the jobs. Jobs [are] available both on the construction side as well as the operation side of the Cay. It is expected that the construction phase will last about 24 months and once that is finished we anticipate a very progressive cruise port in the Bahamas," Farquharson said.
"The aim of the Department of Labor is to provide job opportunities for unemployed Bahamians. This is an excellent opportunity for Bahaman citizens who are unemployed, who have skills in the construction industry to be employed on an impressive development. The company has also confirmed that they will be providing room and board, three meals a day, as well as transportation to and from the Cay on a regular basis. We look forward to working with this company to provide gainful employment for Bahamians."
Representatives from the company are expected in Nassau tomorrow interviewing candidates at the Department of Labour, Rosetta Street and at Regency Centre West in Freeport on March 1, from 1:00 p.m. to 5:00 p.m. and March 16 from 9:00 a.m. to 1:00 p.m.
The company is looking to recruit the following positions: cleaners, concrete installers, document controllers, door and hardware installers, drywall and ceiling installers, equipment mechanics, landscape planters, painters, finishers, security guards, store keeper, steel reinforcement installers, surveyors, surveying assistants, welders, plant nursery attendants, roofing installers and tile and flooring installers.