Several MPs have already tested for the virus, some awaiting advice 
NASSAU, BAHAMAS — Speaker of the House of Assembly Halson Moultrie yesterday encouraged members of Parliament to get tested for the coronavirus, following a confirmed infection among a staff member of the House of Assembly.
"Just for the record, I would like for the public to know that we are in compliance with the COVID protocols as indicated I requested of the staff as well as myself and recommended to members to take the COVID-19 test. I have taken the test, yesterday. The result is negative. The clerk has taken has the test.
"The result is negative and several other members of staff will be taking the test today, and we are hoping and praying that their results would also be negative.
"But what, in my estimation, is most important is in every endeavor, whether there are risks involved or not, responsible representatives of the people are obligated and obliged to step forward despite the challenges and despite the risks to do the business of the people."
Duty-bound fulfills the obligates.
Moultrie advised Parliament that he and Chief Clerk of the House David Forbes both tested negative for the virus.
Eyewitness News understands the staff member, who remains in quarantine, is doing well and recovering.
In a statement Tuesday, the Cabinet Office advised that anyone who came into contact with the infected House staffer for more than 15 minutes without following preventative measures such as wearing a mask and maintaining a physical distance will be required to quarantine.
The Cabinet Office also advised that the Ministry of Health had initiated contact tracing.
It said deep cleaning and sanitization will take place Tuesday.
The statement also advised that the House would meet for a "short session" Wednesday with a reduced number of MPS — just enough to form a quorum of the House. At least 16 members of Parliament attended yesterday.
Eight MPs sat at a distance on the government side, four sat in the gallery and two MP sat on the opposition side.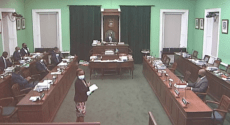 These include Moultrie, who represents Nassau Village, Yamacraw MP Elsworth Johnson, South Beach MP Jeffrey Lloyd, North Abaco MP Darren Henfield, Marathon MP Romauld Ferreira, Mount Moriah MP Marvin Dames, Southern Shores MP Frankie Campbell, East Grand Bahama MP Peter Turnquest, Killarney MP Hubert Minnis, Centreville MP Reece Chipman, Tall Pines MP Don Saunders, Bamboo Town Renward Wells, Central and South Abaco MP James Albury, South Eleuthera MP Hank Johnson, North Andros and the Berry Islands MP Carlton Bowleg and Golden Gates MP Michael Foulkes.
When contacted, Central and South Abaco MP James Albury said as he did not attend Parliament on September 9, he felt confident he was not exposed to the case and did not need to test for the virus at this time.
Henfield told Eyewitness News he intends to follow all guidelines recommended by health authorities, and if health officials contact him to perform a particular action, including testing, he will immediately comply.
Meanwhile, Saunders said he had booked an appointment to be tested Wednesday, and noted that the "speaker was correct in his comments".
Lloyd also confirmed he tested Wednesday morning as a precaution and was awaiting results.
Turnquest also confirmed he tested Wednesday morning and was awaiting results.
To date, at least three parliamentarians have tested positive for the virus and at least three more have had to quarantine due to potential exposures.
Last month, Opposition Leader Philip Brave Davis, the Cat Island, Rum Cay, and San San Salvador MP, Senator Dr Michael Darville, and Central and South Eleuthera MP Hank Johnson tested positive for the virus.
Following a potential exposure at the Sir Cecil Wallace-Whitfield Centre, which houses both the Office of the Prime Minister and the Ministry of Health, both the prime minister and Turnquest entered voluntary quarantine out of an abundance of caution.
It was the second time Turnquest voluntarily quarantined, after his aid in Grand Bahama tested positive for the virus in late July.
Both the prime minister and Turnquest tested negative.
Last month, Lloyd tested negative for COVID-19 following voluntary quarantine after he was exposed to a positive case.