Event organizer Jabari Wilmott deemed the second annual Hooping by the Park Basketball Tournament a tremendous success. The five-day tournament was held over the Emancipation holiday weekend at the Freedom Park in Fox Hill.
Behind the most valuable player performance from Saheed Sansi, Strive for Greatness won the 15-and-under divisional title with a 34-28 victory over the Baintown Ballers.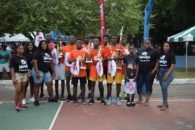 In the 19-and-under division, the Lucayans upset Strive for Greatness with a 29-18 rout as Kapry Camp was named the MVP. The men's division also saw an upset as Wilmott's Humble Beginnings clinched the crown over the Young Gunz behind Sanchez Moss' MVP feat.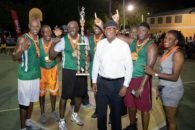 For the first time, there was a Church division staged with Macedonia Baptist winning the title with a 41-33 decision over New Testament. Devontee Gibson was named the MVP.
There was also a legends' game that featured a rematch of two long-rivals in the New Providence Basketball Association. The T-Bird Flyers came from Kemp Road and knocked off the Fox Hill Saints 28-23. Neville 'Manny' Adderley was the MVP.
This year, the organizing committee honored Neville 'Booger-Wire' Taylor for his many years of color commentary during games played at the park. Taylor was overwhelmed by the recognition.