Thirty-eight years after the tragic sinking of the HMBS Flamingo, the Royal Bahamas Defense Force (RBDF) held a memorial service in memory of the marines who died in the line of duty on May 10, 1980.
The service, which is held annually,  took place at the RBDF Coral Harbor base on Thursday.
Governor General of The Bahamas Her Excellency Dame Marguerite Pindling was among those that paused to remember their sacrifice.
"The incident must be forever remembered, especially because it resulted in the loss of the valuable lives of four of our citizens," said the governor general.
"Today, as we pause to remember and pay tribute to Able Seaman Fenrick Sturrup, and Marine Seaman Austin Smith, David Tucker and Edward Williams, we also remember those who have since died in the line of duty.
"Today also provides us with the opportunity to acknowledge the courageous survivors of the flamingo incident, including one former crew member, who continues to serve in the RBDF."
On that faithful day, the HMBS Flamingo had come under attack by Cuban military jet fighters, which forced crew members to abandon ship in very deep waters.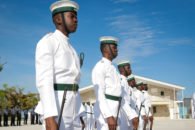 The hostile action occurred shortly after the 103 foot HMBS Flamingo, with 19 crew members, had arrested two Cuban fishing vessels for illegally fishing in Bahamian waters.
The incident occurred 35 miles south of Ragged Island, near Cay Santo Domingo, which is approximately 35 miles north of the Cuban coast.
"As the Defence Force enters a new era of development, continuing to confront new challenges, I am delighted to convey the gratitude and appreciation of the government and people of The Bahamas, for the tenacity and resilience of all of the members of our defense force in preserving the peace and security of our nation, and 'guarding our heritage'," she said.
Prime Minister Dr. Hubert Minnis, other senior government and RBDF officials and family, were also in attendance.
Her Excellency and Dr. Minnis laid wreaths at the HMBS Flamingo Monument and waterside at the defense force base.