Load shedding plagues NP residents over holiday weekend
NASSAU, BAHAMAS — Opposition Leader Philip Brave Davis today lamented the persistent load shedding in New Providence in recent weeks, an exercise that was exacerbated over the holiday weekend due to "technical difficulties" and a "failed transformer" in southern New Providence.
During a press conference at the Progressive Liberal Party's (PLP) headquarters on Farrington Road, the PLP leader said the government has a responsibility to provide the Bahamian people with a proper explanation and when the load shedding will end.
"Outcry, criticisms and complaints against Bahamas Power and Light intensifying in the wake of daily load shedding and power outages," said Davis, the former minister of works, who had ministerial responsibility for BPL.
"The government must say with certainty when the load shedding will end as consumer confidence is at an all-time low, and business losses continue to run.
"This latest episode involving BPL is symptomatic of the incompetence of this government in the handling of any number of policy issues, including immigration, Oban, the collapse of BTC, the government's labor and employment policies…"
Davis accused the Minnis administration of creating one crisis after another and exacerbating routine management matters into crisis situation through "glaring incompetence, arrogance, ignorance, or indifference".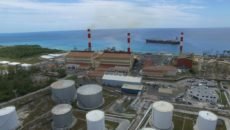 He said the government appears to be tone deaf to the concerns of the Bahamian public.
Minister of Public Works Desmond Bannister and BPL's executive management have maintained BPL is not facing a crisis.
He reaffirmed that assurance over the weekend in an interview with The Nassau Guardian.
Pointing to aged equipment that is being used around the clock, the minister said until generators and other equipment is replaced "we're going to have challenges with power reliability".
"So, it's not a matter of a crisis," he said.
"It's a matter of us coming to reality and appreciating that we have to make changes, which we are in the process of making."
New Providence has been plagued with frequent outages, disrupting the lives the thousands of Bahamians and the operations of hundreds of businesses.
Over the weekend, the power company carried out load shedding in three-hour intervals.
In June, BPL Chairman Donovan Moxey said sufficient rental generation would be installed before the end of the first week in July to provide some relief.
However, he advised that load shedding could still be possible until the installation of the new plant is complete.
Nearly a month later, the full complement of rental units has yet to be installed.
When contacted yesterday, Moxey deferred questions about BPL's operations to BPL Director of Communications Quincy Parker.
In a correspondence last week, Parker said five megawatts of rental units was sent to Bimini to bolster power generation on that island; 14 megawatts have been installed in New Providence, and Aggreko — the world's largest temporary power generation company — was "working with BPL to bring the remainder (six megawatts) online as soon as possible".
Bahamas Electrical Workers Union (BEWU) Paul Maynard accused Aggreko of "joking around" with the installation and said as a result, the company was partly responsible for BPL's inability to meet demand.