NASSAU, BAHAMAS – Grand Bahama Port Authority's (GBPA) vice-chairman Sarah St George suggested it is more feasible to 'storm-harden' the existing airport facility than spend millions on relocation.
St George told Eyewitness News on Thursday it will cost millions to operationalize the modular buildings that will temporarily house the domestic and international terminals.
She said airport officials are working closely with civil aviation groups, along with the United States Transport and Security Administration (TSA), to meet its mid-November deadline to reopen to international traffic.
The Grand Bahama International Airport was severely damaged as a result of deadly Hurricane Dorian and is still closed to international traffic.
St George said: "The airport is in a position where the buildings are completely out of action. All the equipment is gone, the baggage handling and the ability to handle commercial passengers internationally coming in.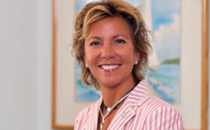 "It has to be TSA-certified and clearly it's not today but Hutcheson is very conscientious about this and Godfrey Smith CEO of airport understands the priority to get it open for international commercial traffic."
"TSA and Bahamas civil aviation groups were on the ground just to make sure what's going there, will be approved but they will be modular buildings for the international airport, the international terminal and domestic terminal. The idea is to get everything in place by Nov 15."
St George added: "The airport was very fortunate they had just put in a new runway so extraordinarily six to seven feet of water for 36 hours did not damage it and that allowed relief flights to come in very quickly. That was the one saving grace, it was the most essential thing.
"In terms of the recovery of the airport I think that's going as fast as it could possibly be expected to go after that kind of destruction – it was huge."
The Grand Bahama International Airport is expected to welcome its first international commercial flight post Dorian on November 15.
According to St George, the first priority is to get the airport reopened.
"The first phase is to get it open, that's a priority because you could never rebuild an airport in a month, rebuilding most of these things takes a year or longer," she said.
"The first phase with everybody's concentration, and make no mistake it will be millions even to get the temporary facility in, but you would rather that than somebody sat back and start planning a whole terminal."
St George said: I think that is phase 1 and then phase 2 is to look at the long-term viability of the airport."
With regards to suggestions that the airport be relocated, St George said, "I've heard people say that, should it be there, but my view is – it's there now.
"Rebuilding, reinventing and re-tarmacking a runway like that is a massive investment; 15 or more million dollars just to do a runway. So, if anybody decided to relocate the airport it puts it onto a different scale.
She added: "I'm not sure that's the right answer, I think maybe the right answer is to storm-harden the infrastructure at the airport."