Several of the country's elite track and field athletes had stellar performances at various major meets around the world over the weekend, including from Bahamian Olympian Shaune Miller-Uibo.
At the Adidas Boost Boston Games, both Miller-Uibo and Steven Gardiner won their respective races.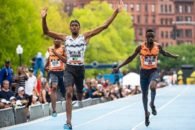 Gardiner won the men's 200-metre (m) straight in a new personal best of 19.88 seconds, ahead of Alonso Edwards from Panama, and Jereem Richards from Trinidad and Tobago. As for Miller-Uibo, she came away with a world best in the women's 150m in 16.23 seconds.
"I was excited to get out and compete against some fierce athletes," Miller-Uibo said following the race.
"I'm just really getting into the 200, so taking on the 150 was a bit of a risk but, my training has been going well. I've been working on my start, and everything just seems to be going well."
Sprinter Tynia Gaither also competed at the games. She finished fourth in the women's 200 in a season's best of 22.86 seconds.
Over at the International Association of Athletics Federations (IAAF) endorses 2018 Jamaica Invitational, Bahamian athletes swept the men's high jump event. Jamal Wilson picked up his second win of the season, with a leap of 2.28m.
He was followed by Trevor Barry and Donald Thomas with marks of 2.25m.