NASSAU, BAHAMAS — More than 100 protestors, many of whom were furloughed and frustrated Atlantis employees, marched downtown after several failed attempts and police interventions yesterday.
Organizers planned to march at 8am from the park at the bottom of the Sir Sidney Poitier Bridge to Paradise Island, but were turned back by police officers.
As protestors began marching on Bay Street around 8.30am, officers told them to return to the park to continue the demonstration as they did not have a permit to march downtown.
As they sought to divert onto Dowdeswell Street, protestors again met a cohort of officers who redirected them.
Dave Beckford, an Atlantis employee of 25 years, said: "We have the right to protest, we have the right to march.
"And this injustice is against us hotel workers. We are the backbone of this industry.
"We are saying to Atlantis, give us our money. Redundancy is in our laws and we call on the prime minister and minister of labour to speak to us."
He added: "We are not being treated fairly. Are we to stay furloughed forever?"
A mother of six, who said she and her husband have been out of work since the resort closed its doors in late March, questioned how their family will survive with mortgage payments looming over them.
"Me and him now does not have a job," she said.
"This is hitting both me and my husband and we have a family to take care of.
"What are we supposed to do? They just run us off the park and tell us to go home or we are going to get locked up. Now, we decide to walk on Bay Street and they are telling us go back to the park."
Officers continued to usher demonstrators toward the park.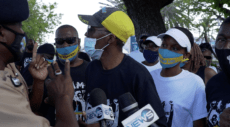 Several protestors held placards that read: "Battle time", "Show us our money", and "Get up, stand up", among others.
A casino worker of 30 years, who identified herself as Paulette, suggested the prime minister was ignoring the pain of furloughed employees who have contributed decades of their lives to the country's tourism product.
When asked what she wished to express to the government, she said: "It's for Atlantis, the government and the union. This is hurting. I worked in the casino from 1991. That's all. I just want my money to do what I have to do because he 'ain' want nobody go out there to rob and steal. It hurts."
A chef of 18 years, who did not wish to be named, said the past six months have been some of the hardest of her life.
She had a clear message: "Get our money and get it now. Just do the right thing Mr Prime Minister."
Another mother of five, who has worked in the Marina Village for 14 years, said: "This is horrible. I have four kids at home. I have a son off to college. He is calling me for money and I can't find money to [support] him."
Shaka Baker, who said she works in reservations, told Eyewitness News: "The reality is if I don't pay my rent, I don't have a place to live."
"I can't live in my car," she said, adding that she is reliant on the redundancy pay.
"There are things I want to do.
"I want to be a business owner. I want to depend on myself and no one else.
"I worked there with integrity for many years. I need y'all to have integrity and pay me."
Baker said she wants the best for the resort, and the issue was not about "loyalty to Atlantis; I have to be loyal to me and my child."
Baker said her daughter, who has maintained full-time employment, has helped with keeping them afloat.
She also said her landlord's only form of income is her rent payments, insisting that if she fails to pay "she (her landlord) can't buy groceries for herself".