ABACO, BAHAMAS — The prime minister's decision to push back the curfew on mainland Abaco by two hours was branded a "big deal", especially for small businesses on the hurricane-ravaged island.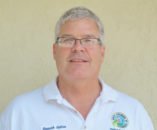 Prime Minister Dr Hubert Minnis, during a COVID-19 communication in Parliament yesterday, announced that the 8pm to 5am daily curfew on mainland Abaco would be adjusted to 10pm to 5am.
Ken Hutton, the Abaco Chamber of Commerce president, told Eyewitness News: "That is a big deal. That is really great news especially for the small businesses that are doing food. It gives them an extra two hours.
"A lot of them, because of the curfew, had to close at 6.30pm or 7pm. This now gives them a couple more hours to stay open, do some more business, and it's vital to the community.
"I'm very happy about that. Kudos to the prime minister for that."
Hutton told Eyewitness News he was encouraged by the uptick in reconstruction activity taking place on the island in the aftermath of Category 5 Hurricane Dorian, which struck in September 2019.
"I'm very encouraged by the increased activity here. A lot of people seem to be able to return home and start the rebuilding process, which was halted by COVID a year ago," said Hutton.
"Things are picking up but again it's the beginning. We were delayed by a year."