NASSAU, BAHAMAS — Willamae Johnson, 62, a retiree whose son was murdered two years ago leaving behind two young children in her care, said yesterday that life has been hard.
Johnson was among scores of residents in Fox Hill who received food and other supplies, as well as a meal, from the Royal Bahamas Police Force on Freedom Park.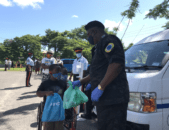 "There are some people who really don't have it," Johnson told Eyewitness News.
"My household has six and my sister's household has plenty.
"So, whatever I could share what I don't use, I'll give it to her and what she doesn't use, she'll give it to me.
"She's not working and I'm not working. I'm on retirement right now. I worked at the Cove, Atlantis, but I retired at the age of 60 because I had a health issue.
"And then, I had a son that was murdered at the time, so everything was backing up on me and I retired.
"It's very hard, and this means a lot to us because people are not working at this time, so this is a tremendous help."
Lenish Demeritte, who said she does not work, told Eyewitness News that while relatives in her household continue to earn a living, finances have been strained for months.
She said during this tough time, pride must be put aside in order to accept help.
Similar to Johnson, Demeritte said the donated meal and food supplies will go a long way for her family and other households that she continues to seek to help amid the pandemic, which has seen thousands lose their jobs.
"It's relatives and friends outside of the house who are in need and we are able to assist as well
"So, it solidifies what we were always taught by my mother, my grandmother before me that you must always help whenever you can.
"This is a part of that helping. It takes situations like this to really teach people to let pride go, to have to set it aside sometimes, and see the bigger picture.
"That is what this is here for me today."
Another Fox Hill resident, who said she lost her job earlier this year, said: "You know a lot of us are not able to sustain ourselves the proper way right now because of not working or for whatever other reason.
"So, this means a lot to us that the police thought enough of us in Fox Hill to come and give us a little something."
Addressing reporters, Commissioner of Police Paul Rolle said the police force visited the community to "give a little something back" and encourage residents to continue to follow health guidelines amid the pandemic.
"That is what we want to do," the commissioner said. "This is the lighter part of policing.
"We want the members of the Fox Hill community to know that we are here for them and we support them and encourage them to partner with the police as we try to keep everyone in this community and throughout the Commonwealth of The Bahamas safe.
"That is really the message that I have for the people here today."
Other residents called the efforts of the police force a "blessing" and "great help".