Minister of the Environment & Housing, the Hon. Romauld S. Ferreira reminded contractors of their duty to protect the environment at Thursday's 'Moving Forward' Contractors Association's Construction Training Seminar, under the theme "Building Each Other for a Better Bahamas."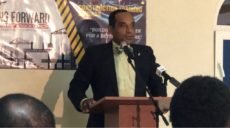 The Minister addressed contractors and other members of the construction industry at New Covenant Baptist Church on East West Highway.
He highlighted the importance of their profession in controlling pollution, and other threats and hazards to the environment, stating that the resources in our environment are not unlimited and we must appreciate that we are all interconnected, which makes all of us our 'brothers' and sisters' keeper.'
"The environment is everything and everything depends on the circumstances by which we live. Those conditions determine everything and includes everything, living and non-living; the natural and the built environment. Our environment serves its purpose in preserving our life each and every day. It is our duty to value it, and to care about the health of our environment, and conscientiously protect our environment from any damage," said Minister Ferreira.
He added that no one could deny the construction industry plays an important role in building national socio-economic development, through creating structure, shelter, and employment.
"We all know that the strength of our economy is directly related to the construction industry because whenever it goes down, the ripple effect is felt through every sphere in our community.
"Construction is our third industry and contributes to 10 percent of our GDP.
"Today the Bahamian Construction Industry is starting to show signs of growth as it recovers from the recent downturn in the economy," said Minister Ferreira.
The seminar ended on Saturday, February 10, 2018.