Prime Minister Dr. Hubert Minnis promised a full investigation into Friday's Labour Day march tragedy and the same time pledged to support the families of the victims.
The nation's leader made the pledge during a national address Sunday evening, just two days after the horrific incident claimed the lives of four and saw the injury of nearly two dozen others.
Dr. Minnis was off the island on Labour Day,  returned to the capital on Saturday to meet with families of the four victims prior to his national address.
Joined by Health Minister Duane Sands, Minister of Labour Dion Foulkes and Bahamas Christian Council (BCC) President Bishop Delton Fernander, Dr. Minnis spent a good portion of the day visiting the residences of Tabitha Haye, Tami Gibson, Kathleen Fernander and Diane Ferguson – the women who died on the Randol Fawkes Labour Day Parade. He also visited the survivors who were hospitalized as a result of injuries sustained in the unfortunate incident.
During his visit with family members, who were obviously distraught, the prime minister offered condolences on behalf of the government and the Bahamian people. Bishop Fernander prayed with family members and assured them that God is "faithful" and will comfort them in their time of bereavement.
Both Dr. Minnis and Bishop Fernander interacted with and offered words of encouragement to the husbands of Haye, Gibson and Gray-Ferguson, as well as with Nahshawn Fernander, the son of Kathleen Fernander.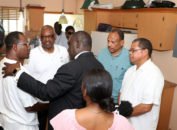 Officials reported that some 24 participants in the parade suffered injuries and were taken to hospitals for medical care. The prime minister and his team visited those who remained hospitalized at Princess Margaret Hospital (PMH) and the Doctors Hospital.
The families of the four victims as well as those in recovery, responded overwhelmingly to the visits by the prime minister and his team, indicating that the gesture "cheered" them up after facing such an ordeal.
The prime minister had initially issued a statement on Labour Day in the aftermath of the incident. He commended the participants, first responders, onlookers and the professional teams at the PMH who worked with great compassion and urgency to care for the injured, and those who had already passed away.
"We commend all those who came to the aid of those affected by this tragedy," Dr. Minnis said.
"Government ministers and other officials will continue to offer immediate support and ongoing assistance. We are committed to doing all that we can to assist the family members of the deceased, and those injured and their families."