NASSAU, BAHAMAS – Seventy-percent of New Providence would be covered by storm surge flooding if a Category 5 hurricane were to hit the island,  Scott Kuykendall from Pacific Disaster Center revealed yesterday.
Kuykendall made the revelation during a presentation at the Bahamas Strong Alliance's webinar series, commemorating the first anniversary of Hurricane Dorian.
Yesterday's discussion focused on risks and preparation for major hurricanes in New Providence.
Kuykendall showed models for the landfall of Hurricanes Matthew and Dorian in The Bahamas.
He outlined what would happen if a Category 5 storm were to hit the country's capital.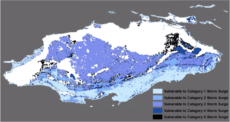 He explained that based on the models, only a limited number of areas on New Providence would be spared from a storm surge.
"That's pretty scary, that's about 70 percent of the island," he said.
He noted that PDC has been able to extract building footprints on New Providence and model a Category 5 storm surge on top of the island to estimate the possible impact.
"Needless to say a lot of those houses down in the red, that's a problem for a Category 5 storm surge," he said.
Southeast New Providence comprised a larger concentration of vulnerable homes, including Yamacraw Hill Road, Prince Charles, and Fox Hill.
"That is just the storm surge. You are still going to have your Category 5 winds, [and] you're still going to have rain. So, we don't model that on top of it. So, if you have a 10-foot storm surge and you've had eight inches of rain, and you have 150mph winds, you're going to have bigger problems."
Kuykendall noted the PDC could also determine the estimated population exposed to the storm, the potential humanitarian needs, and capital exposure using its All-hazard Impact Model (AIM).
"For storm surge alone on a Category 5, there would be approximately 117,000 people potentially affected," he said.
Based on the models, the capital exposure — assets and infrastructure exposed to potential damage — could total $15.7 billion.
In order to respond to such a catastrophe, the country would have to be able to provide 245.4 million kcals (kilocalories) per day, 349,202 liters of water per day, 3,337 100-liter waste bins, and 402,926 square meters of shelter.
Kuykendall then presented a comparative model of the catastrophic/worst-case scenario simulating a direct impact on New Providence by Hurricane Dorian.
The potential population exposure of the storm would have been over 260,000 people and the potential capital exposure would have cost around $36.4 billion.
Taking into consideration the possibilities if a storm were to hit, Kuykendall noted that mitigation efforts must be implemented.
These include early warning and action, continuity of government plans, ensuring multiple people are trained, and prepared for vital response, and more utilization of private sector recovery.
He said Family Islands and citizens need to be self-sufficient for at least 72-hours or more.
Additionally, logistics must be in place, to ensure resources are spread out and distribution can be conducted from other places than Nassau.
Dorian ravaged Abaco and parts of Grand Bahama for three days last year, between September 1-3, causing nearly $3.4 billion in damage and killing a confirmed 74 people.
The number of missing, which authorities reported as 279, remains an issue of contention.
The organization, which performs National Disaster preparedness Baseline Assessments, has conducted approximately 12 across the globe.
By the end of next year, the company is expected to have conducted assessments for around 20 percent of the world.
"We work with NEMA in each country and help them get into their plans, countrywide — exactly how they are standing, how they are ready for disasters and we look into socio-economic factors, hazards risks — not just are you going to get hit by a hurricane," Kuykendall said.