NASSAU, BAHAMAS — A Cabinet minister has stressed that The Bahamas' building code must be revisited and homes designed to sustain the impact of stronger storms.
Environment and Housing Minister Romauld Ferreira said today ahead of a Cabinet meeting that the results and data is clear: "the the planet is getting hotter and climate change is real".
The backdrop of his statement is the widespread destruction of homes, businesses and public infrastructure in the wake of Hurricane Dorian, which slammed the islands of Grand Bahama and Abaco on September 1-3.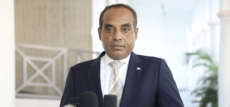 "August of this year was the hottest year on record," the minister said. "Hurricane events like Dorian will only become more frequent and more powerful. As part of adaptation for resilience we have to look at the building code otherwise we will be doing this and repeating this function over and over again. That means that the building codes have to be revisited and houses need to be designed in such a way to withstand stronger winds. In the 70s we looked at the building codes. We must look at it again. Houses must be built to withstand gusts of 200 mile-per-hour winds. This is going to become commonplace going forward."
Ferreira said "every single detail" of construction will likely have to be evaluated going forward.
"In real terms that would mean the grade and type of steel depending on the structure of the building; the richness of the concrete; the type of structure; the depth of the foundation; how far above sea level do we actually build the foundation to prevent flooding; how many clips do you put on your rafters; the types of rafters and how many nails," he said. "Every single detail will have to be evaluated to give you that result for your home which is for most people their largest investment."
Assessments of the damage in both islands is ongoing as government agencies, regional and international partners enter the recovery phase of the response to Dorian.