NASSAU, BAHAMAS — The Access Accelerator, Small Business Development Center has assisted Cheryl's Bahamas Taxi & Tours in accessing $230,000 in debt financing from the Royal Bank of Canada.
Cheryl Cambridge, owner of Cheryl's Bahamas Taxi & Tours, began her taxi business in Grand Bahama in the early '80s.
According to Cambridge, it all started with a nice clean car.
"When I was a teenager in Freeport, I had a really nice car," Cambridge said.
"As I drove around Freeport the tourist would be flagging me down saying, 'taxi, taxi'.
"I told them I wasn't a taxi, but I would give them a ride, just being nice.
"Then they would ask for my number, but I only had my apartment number, so I gave them that. Next thing I know, they called me, 'oh, you gave us a ride last time, we are coming into the airport can you pick us up again?' I said no problem."
Naïve to the way taxi services worked in The Bahamas, taxi drivers accused Cheryl of trying to steal fairs as she became frequently used by visitors.
Cambridge continued, "One Saturday I went to the airport and I had about six arrivals.
"The taxi drivers said, 'oh no, you hacking'. I asked them what was hacking?
"So, the police came and told me that I couldn't be seen collecting money, it was illegal.
"I said, but I'm only driving the people. Then he told me to get a taxi badge. I got my badge and started working for Freeport Taxi."
Cambridge quickly realized that her clientele had grown.
The amount of money she paid to Freeport Taxi could instead be used to invest in a car when added with the money in her savings. That was the beginning of Cheryl's Bahamas Taxi & Tours.
With her brand new white station wagon that was able to seat eight passengers, Cheryl began driving for herself while continuing to grow her customer base.
However, the recession in Grand Bahama forced a move to New Providence.
In Nassau, she began working for Meter Cabs for a few months before purchasing a car to restart her private taxi service.
Since buying her first car in New Providence, Cambridge presently has a fleet of 12 cars and two tour buses. Now, with the funding acquired through the SBDC, the entrepreneur hopes to add four more cars to her company.
Speaking about being a woman in a male-dominated industry, Cambridge said: "It's not easy sometimes. Sometimes [male taxi drivers] look down on me because I'm a woman, but I don't let it bother me at all. I feel like I can be an example to women and men in this industry. I want to be a pacesetter in setting a standard of service for taxis."
She continued, "Sometimes I see the way drivers dress. You will never see my staff or me with our arms showing. The standard has lowered; it should be going higher. I make sure 24 hours out of the day my drivers wear neckties; the ladies wear a scarf, and they must wear their uniform. They represent me. I can't be two places at the same time, but my policies can. We set a standard and because of that my repeat customers keep me going."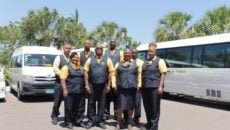 Cambridge believes that it's the personal touch that her customers love so much. It's why she has repeat customers such as American actress Ellen Pompeo, who plays Meredith Grey on the television show Grey's Anatomy, making up much of her clientele.
"I noticed that [the customers] love that personal service. When my guests come in at the airport, I have Bahama Mamas for them, Capri Sun juice for the children and water for those who don't drink," said Cambridge. "Valentine's [Day] I give them flowers and on special occasions. I just had two pregnant guests who came in on what they call a 'Babymoon', and I gave them a snow globe with The Bahamas on it. Honeymoons, I give them a picture frame made from shells with The Bahamas on it, so I give them personal gifts. They love the personal service."
Winston Rolle, the SBDC advisor for the taxi service, described Cambridge as resilient and deserving of the investment.
Rolle said, "Cheryl represents what being a resilient entrepreneur is. She started her business from one car and before even coming to the SBDC, [she] was able to grow it to a successful taxi service. I believe that Cheryl is more than deserving of the investment, but it's just years of her work paying off. I'm happy to be able to witness her access funds to take her business to the next level. There is no stopping her."
Advising anyone who may want to join the SBDC as she did, Cambridge said, "First of all, have your house in order and do good housekeeping. If you try, then (the SBDC) can try their best to assist you. This team is doing their best.
"Sometimes we may not think so because we don't see all of the work they are putting in. I've seen where [the SBDC team] is trying their best to accommodate everyone and not turn them down. They can only do their part, but we, as entrepreneurs, must do our part too."
The SBDC is the product of a tripartite arrangement between the Government, through the Ministry of Finance, University of The Bahamas (UB) and the Bahamas Chamber of Commerce and Employer's Confederation (BCCEC). The Centre will work to guide the development, funding, growth, and evolution of Micro, Small and Medium-sized Enterprises ("MSMEs") in The Bahamas.
Article and photos courtesy of Small Business Development Centre and Bahamas Information Services.