PM: Special economic recovery zones to take effect for initial period of three years
NASSAU, BAHAMAS — As the initial stages of recovery continues on the islands of Abaco and Grand Bahama, three weeks after being decimated by Hurricane Dorian, East Grand Bahama, Abaco and the Abaco Cays will be made special economic recovery zones for an initial period of three years to facilitate "social and economic recovery", Prime Minister Dr. Hubert Minnis announced today.
During a press conference at the Office of the Prime Minister, Minnis said until the communities of East Grand Bahama, Abaco, and the surrounding cays are able to get back to their former levels of social and economic vitality, these areas will remain special economic recovery zones.
The prime minister said it is critical for the government to move with "determination and haste" in creating the right environment needed to restore commerce in the affected areas. He said once commerce resumes, displaced residents can move back home with jobs and economic opportunities.
"These communities must be restored to the economic and social vibrancy they enjoyed before Hurricane Dorian," the prime minister said. "We must do all that we can to ensure that this happens as soon as possible. Accordingly, to facilitate the required social and economic recovery on the islands impacted by Dorian, I am pleased to announce that East Grand Bahama, Abaco and the Abaco Cays will be designated as special economic recovery zones for an initial period of three years."
The model of the zones and the tax benefits and incentives follow suit to the already established economic empowerment zones created in several inner-city communities in New Providence, according to Minnis.
He said the storm-ravaged areas will also benefit from other means of support to restore the respective economies.
These benefits include, duty-free purchase of all material, fixtures, furniture, vehicles and equipment for all business needs and for all business and residential construction and rehabilitation efforts; waiver of business license fees; waiver of real property tax, payable of eligible properties reconstructed, restored or otherwise are inhabitable by October 2020.
For duty-free purchases of commercial items and construction material, the prime minister noted that the government is taking steps to ensure that Bahamian wholesalers and distributors benefit from the provision to allow those who take advantage of the concessions to purchase locally.
"Accordingly, for East Grand Bahama and for the Abacos, we will extend the 'bonded' items facility that is a feature of the Port Authority area of Grand Bahama," Minnis said. "Thus, a resident of Abaco or East Grand Bahama, who is setting up his or her business or undertaking their construction project will be able to buy their items on the island at the duty-free prices."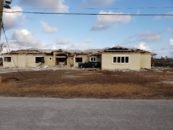 Residents in the impacted zones will also receive up to 50 per cent valued-added tax (VAT) credit on the sale of real property, "provided that such sale will be immediately followed by material construction on or enhancement to the property or the utilization of the purchased property to material commercial activity".
Properties that are underdeveloped, not repaired or refurbished to habitable conditions will not benefit from the concession.
Minnis announced that $10 million in loan guarantees and equity financing is available to affected Bahamian small and medium sizes businesses to secure up to $500,000 in financing under the program to fund the restoration of businesses or the creation of new businesses.
Businesses within the zones will also be provided provisional business licenses within two days of completing an application to allow qualifying businesses to get started in earnest.
A business assistance centre — comprised of representatives from the Small Business Development Centre, the Bahamas Investment Authority, the Ministry of Finance, the Department of Inland Revenue and the Department of Environmental Heath and building Permits — is expected to be established in Grand Bahama and Abaco, the prime minister announced.
"This one-stop shop will be equipped and empowered to ensure that all existing and new businesses will be able to work through any regulatory requirements within five working days," Minnis said. "The provisions under the Special Economic Recovery Zone are intended to encourage and facilitate the rapid restoration of commerce in the affected areas so as to fulfill the governments core objective of ensuring that Grand Bahamians and Abaconians can restart their lives on the own home islands."
Abuse
The prime minister added that the government will require projects of business or individual construction that access the duty-free concessions to be registered in order to minimize the possibility of abuse. He said, however, that his administration will ensure that the project monitoring will be as "nimble and as efficient as possible".