Road works on Nassau Street expected to be completed by end of the month
NASSAU, BAHAMAS — Droves of motorists travelling in opposing directions along Nassau Street came within inches of each other yesterday as those headed northbound meandered in the wrong lane to avoid a debris-littered stretch of unpaved road spanning from Boyd Road to Meeting Street.
While observing the flow of traffic on the arterial road for just a few minutes, there were two near misses.
Charlie Lockhart, 38, a long-time resident on Nassau Street, said it is a dangerous predicament, and one that could see a serious accident in not addressed.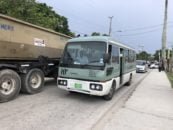 "This is a main street; a backhoe should come every morning and scraped off, and put fill in
"The government has vehicles to clean the street, and do the fill at the same time.
"They don't care about us. This is a main road. And then, you must dampen the dust, which is also affecting people. And you have a school right over here. When you see 3 p.m.
Lockhart said he sweeps water that builds up in front of his home away, in an effort to avoid students being splashed by vehicles on their way to and from school.
More importantly, Lockhart said if a vehicle traveling south turns onto the sidewalk seeks to avoid another vehicle traveling in the wrong lane, a child could be struck.
When contacted, a Ministry of Works representative said Bahamas Power and Light (BPL) contracted a private company to complete excavation works from a substation near the nation al stadium to Nassau Street up to Bay Street, and that entity was responsible for filling the road sufficiently to make it drivable.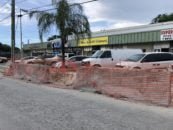 He said the ministry inspects the area daily, but recent inclement weather and heavy downpour may have worsened the condition on the trench, and another load of fill may be necessary.
"They are supposed to be reinstating and maintaining a good trench until the road in reinstated properly," the ministry of works representative said. "…Reinstating and keeping the trench drivable [is] what they are supposed to be doing."
The ongoing works in expected to be completed by the end of the month.
In May, Prime Minister Dr. Hubert Minnis announced that government had launched an extensive roadworks program throughout the country that would see substantive infrastructural changes and improvements.
Works was also expected on Tonique Williams-Darling Highway, between Bethel Avenue and John F. Kennedy Drive and Baillou Hill Road between Soldier Road and Cowpen Road.
Designs for the improvements of Coconut Grove between Baillou Hill Road and East Street, as well as junction improvements at Commonwealth Boulevard and Prince Charges, and Arawak Cay and West Bay Street were also being developed.
Others expected road works, include a new roundabout at West Bay Street and Blake Road and the resurfacing of Village Road.