"We don't have a lot of room to talk about wants," Turnquest says
NASSAU, BAHAMAS — Minister of Finance Peter Turnquest suggested yesterday that the ongoing contentious discussion about union payments is moot until the government addresses the power woes facing New Providence and "we have reliable, clean, and consistent power".
The finance minister's comments follow criticisms by several union executives who have asserted that if the government can find additional finances to remedy the generation shortfall at Bahamas Power and Light (BPL), it should be able to come up with some funds to resolve the unions' outstanding financial matter.
While speaking with media outside of the Financial Intelligence Unit on East Bay Street, Turnquest asked, "If we don't have the basic infrastructure in place, how can we talk about productivity?
"How can we talk about contribution [and] generating tax dollars that are needed in order to satisfy some of these union demands?"
Following months of persistent load shedding ranging from three to four hours intervals an al almost daily basis, Prime Minister Dr. Hubert Minnis acknowledged that the situation had reached "crisis".
He vowed to do whatever it takes to find the funds to assist BPL as it works to resolve the power woes.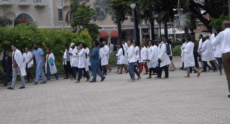 Over the last couple of weeks, several unions in The Bahamas have either taken action or threatened to take over the government's failure to address a myriad of concerns, namely issues of outstanding funds.
The Bahamas Doctors Union withdrew services last Wednesday over issued related to outstanding holiday since 2014. The action forced the Public Hospitals Authority to suspend non-emergency services at public healthcare facilities in New Providence and Grand Bahama.
The matter has been referred to the Industrial Tribunal.
Following a meeting among several union leaders, the prime minister, and his Cabinet on Saturday, Turnquest revealed that the government had not plan for union expenditures in the current fiscal budget.
Yesterday, Turnquest said that while the unions may deserve whatever compensation or benefits, they have called for, the country is experiencing limiting circumstances.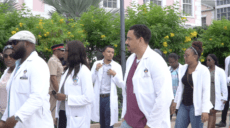 "The unfortunate factor is that we have limiting circumstances," he said. "And certainly, we do not want to go back to the situation where we're borrowing head over heels and uncontrollable borrowing, uncontrollable spending to the extent that we put ourselves back in a precarious financial position that we've worked so hard to try to overcome."
However, the finance minister said the government has learned a lot for the future.
He said that now more than ever before, Bahamians have become devoted to knowing how their tax dollars are spent.
"It will work to the benefit of us as a country and our maturing democracy," he said. "We have taken that on board and we will certainly do our best to ensure that we are transparent and upfront with the unions as to what is possible and not possible."
"When we get to the point where we have a surplus then we can talk about wants versus the needs, but unfortunately with a 137 million deficit projected for this year, we don't have a lot of room to talk about wants."
According to the prime minister, discussions on the country's economic and fiscal affairs with the union will be integrated into the budget planning process.