NASSAU, BAHAMAS- Deputy Prime Minister K Peter Turnquest has pushed back against criticism by the Opposition over the recent establishment of the Ministry of Disaster Preparedness, Management and Reconstruction.
The Finance Minister, who also heads the Grand Bahama disaster committee, told reporters yesterday it was easy for the Opposition to criticize.
Progressive Liberal Party (PLP) Chairman Fred Mitchell on Sunday lambasted the Minnis administration over its hurricane relief response and the prime minister's refusal to meet with PLP Leader Philip Brave Davis in the aftermath of the storm.
Turnquest said: "I think Prime Minister has addressed this issue with the creation of a new ministry for all these efforts. The fact of the matter is this is an incident that is unprecedented in terms of the scale of it, in terms of the diversity in which the islands and communities were impacted and so it's easy to criticize. I think it would be more useful for the opposition to contribute to the debate in terms of how we address these issues going forward and support us in the efforts that we are trying to do in bringing some normalcy to our citizens."
Turnquest spoke to reporters following a meeting with Inter-American Development Bank president Luis Alberto Moreno and executive board members at the Office of the Prime Minister.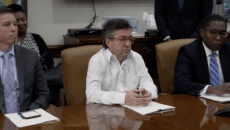 He said government expects most residents of Grand Bahama to return to the island as the rebuilding phase gets underway.
"Persons returning to Abaco has been a little slower and that is just because of the sheer scale of the destruction, there are no amenities but I think even there people are starting to turn their attention to rebuilding," he said.
"Very shortly we hope to start seeing the merchant class start to move in and start to get things going. The shelters as I understand it will be here very shortly. In Abaco, hopefully this week we will have accommodations for the government workers so that we can get the government systems back up and it'll flow from there."
Amid the rebuilding efforts post-Dorian, Turnquest maintained Ragged island – devastated by Hurricane Irma in 2017 – has not been forgotten.
"The prime minister outlined a vision for Ragged Island and as far as I'm aware that is still very much on track. So hopefully they will start to see the kind of results that they wanted and they expect to have," said Turnquest.
In the wake of Hurricane Irma Dr Minnis promised to transform Ragged Island into the "first fully green island in the region".