BCPOU files trade dispute, claiming BTC refuses to negotiate VSEPs
The Bahamas Communications and Public Officers Union (BCPOU) has filed a trade dispute against the Bahamas Telecommunications Company (BTC) over its reported failure to complete negotiations in good faith with the union regarding a voluntary separation exercise for more than 100 employees, according to BCPOU President Dino Rolle.
Rolle previously said union executives were expected to meet with BTC CEO Garfield Sinclair last Friday to discuss the voluntary separation packages (VSEPs), but those discussions did not proceed.
In a statement, Rolle claimed Sinclair emailed him and said he had concluding the consultative discussions with the union and would be "moving ahead with the launch of the VSEP program at BTC in the coming days".
"You can't get clearer than that," the union president said.
"Unfortunately, it seems as though Sinclair was attempting to deter the unions and had hoped that we would have gone away quietly and forfeited the rights of our members.
"Now, he's stating in the dailies this week that BTC is only in the planning phase of its VSEP program".
Rolle said he expects the Ministry of Labour to intervene and bring BTC executives back to the negotiation table.
"Our only aim is to ensure that our members are treated fairly and offered equitable packages, commensurate with their years of service," he said.
"Additionally, we have to be very deliberate with our actions to ensure that the VSEP packages are designed appropriately, primarily because pensionable individuals accepting the packages will be transitioning a financial burden to the already multi-million dollar mounting debt of the public purse — [ultimately] the Bahamian people.
"This is an unfortunate position which carelessly came about under the terms of the BTC sale to CWC (Cable and Wireless Communications).
"I find the actions of the BTC CEO, Mr. Sinclair, to be most disingenuous.
"You can't treat the staff with disdain, call them inefficient and 'dead wood' behind closed doors and call for unity in the face of the public."
"Staff can't be efficient when they are not provided with the tools to perform their job functions.
"This business has not made any major capital investments in BTC for almost five years."
When contacted, Director of Labour John Pinder told Eyewitness News Online that the mounting tensions at the telecommunications company is cause for concern.
He said the matter could be exacerbated by Liberty Latin America CEO Balan Nair's recent public statements about employees at BTC and the prime minister.
Nair subsequently apologized, but the union has rejected the apology.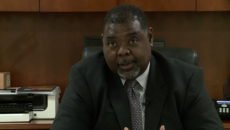 Yesterday, Pinder said, "I have asked my office to reach out to Mr. Sinclair to see how quickly we [can] engage and get both sides together to see how we can strengthen this relationship.
"The comments made by the CEO has national concerns as it relates to Bahamians in general.
"We don't want this to get to the point where they have to take industrial action because the only people that will get hurt is the Bahamian people. We will do all we can to try and calm the waters."
Last week, Rolle said that the union will continue to agitate until Nair and Sinclair resign, saying if the pair do not step down, the union will "do what it must".
"We will continue to agitate; we will continue to push and we will continue to have our voices heard," he said.
During a recent Liberty Global meeting in Jamaica, Nair said BTC is one of Liberty's lowest performing subsidiaries.
He linked the performance of the company directly to its employees.
He also said that during a recent meeting with Minnis, the prime minister lobbied for more Bahamians to be employed, but jeered that the prime minister was "not trying to make eye contact" with Sinclair, a Jamaican national, who was sat across from him.
BTC is a subsidiary of Liberty Latin America.