NASSAU, BAHAMAS – Progressive Liberal Party (PLP) Leader Philip Brave Davis yesterday decried recent suggestions to transform flattened Abaco shantytown land into a commercial area.
Public Works Minister Desmond Bannister made the suggestion as he and a delegation toured The Mudd – the largest shantytown on Abaco – on Friday.
The Mudd and neighboring Pigeon Peas, located in Marsh Harbour, were decimated by Hurricane Dorian's passage in early September.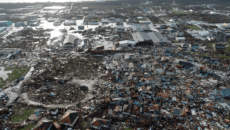 "I think the minister of works ought to pause and think about what he is suggesting," Davis told Eyewitness News Online following a press conference at the party's headquarters.
"Many lives were lost on that site, many lives; the number of which has still not been ascertained.
"I'm advised that bodies are still being found in the cleanup exercise, which means this area really should be memorialized, so that we can always think in the fore, what has happened on this faithful passage of Hurricane Dorian."
On Friday, cleanup efforts in the Mudd were said to be 60 percent complete.
Bannister, who reiterated the government's commitment to ensuring no one rebuilds in those shantytowns, called the area "a blight on our society".
"This is going to be cleaned up," he said.
"It is going to be fenced in properly, and when that is done, the government is going to have to make some decisions.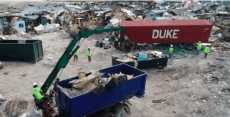 Bannister continued: "On a personal level, I'd like to see a new city sprout up here, as has happened all around the world. And we certainly have the land to make that happen. This would be a wonderful commercial area in the heart of Marsh Harbour and it could create many opportunities."
Yesterday, Davis underscored the government must address other challenges with the site before deciding what to do with it.
"In any event, it seems to me that before any decision could be made on what has to happen here, the first decision that has to be made is to ensure that you remove the challenge of flooding, which will require lifting that area," he said.
"I think they need to fill in that area, it needs to be lifted by at least four feet or more to minimize its proneness to flooding."
Davis said: "I think that's the first step. And once that is done, I think it will be more fitting for the area to be used as a memorial for reminding us what has happened since Dorian.
"Let it be a green open space with some other edifices that mark what has happened to us during this year."
In the days following the storm, Prime Minister Dr. Huber Minnis announced Cabinet would consider declaring the area a memorial site "in respect for those who would've died in those particular areas".
The government remains locked in a legal battle over those shantytowns.
Last year, a Supreme Court injunction barred the government from moving forward with plans to evict residents from shantytowns in New Providence and Abaco.
The injunction handed down by Justice Cheryl Grant-Thompson blocked the government from demolishing shantytown structures, and the order was amended to outlaw any new construction.
The judicial review of the issue is pending; however, the prime minister announced last month he had instructed Attorney General Carl Bethel to make an application to the court to have the injunction lifted.
Speaking to how the government should deal with the shantytown matter, Davis expressed support for the government's bid to compulsorily acquire the land.
"Ownership could be cleared by the government's compulsory acquiring the property for a public purpose," Davis said.
"That purpose could be the memorial that they are going to erect to mark the challenge that Dorian has brought to that particular community, and that could be done through acquisition.
Davis continued: "So question of title could be cleared by government itself.
"Acquire the property compulsorily, give those who claim to have some interest in the property the right to compensation once they could prove that interest and I think that solves the problem."