A small victory for gaming operators after they were able to secure at least another month before any additional taxes are implemented.
Government agreed to "hold off" until after the matter can be heard before the courts.
Attorneys representing members of the Bahamas Gaming Operators Association (BGOA) appeared before Justice Indra Charles Friday morning for a hearing, after filing a class action lawsuit against government late Thursday afternoon.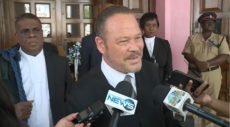 However, the matter was unable to be heard today.
Because of this, Attorney General Carl Bethel said, the government has agreed to not move forward with the five percent stamp tax to be applied on deposits and any non-online games or digital sales, or implement the new sliding scale tax until after the matter is argued.
The case has been adjourned to Oct 5.
The taxes were announced during the budget communication in June, and since that time, gaming operators have opposed the increases claiming that government made its decision based on information that was not relevant to the domestic industry.
They also faulted the government for no consultation on the tax.
Government did delay the stamp tax that was initially expected to take effect on July 30 and said that additional research would be done along with consultation but never dismissed its implementation.
Gaming operators have also threatened massive job cuts across the sector if the tax were to take effect.