The first Bahamian to win an Olympic medal and the first to win Olympic gold, Sir Durward Knowles passed away over the weekend at 100.
Sir Durward won the country's first Olympic medal – a bronze in star class sailing with Sloane "Bunty" Farrington at the 1956 Olympics in Melbourne, Australia. Eight years after, he won gold in the star class bronze division in the 1964 Olympics in Tokyo, Japan. Sir Durward went on to compete in six more Olympics for The Bahamas- the most among any Bahamian in history. He was 70-years-old when he competed in the Olympics for the final time in Seoul, South Korea in 1988, representing an independent Bahamas. Up until the time of his death, Sir Durward was the oldest living Olympian.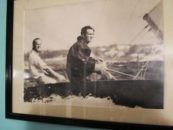 Along with his Olympic achievements, Sir Durward was also a world champion in the Star Class, and a former Pan American Games champion in the Star Class.
Sir Durward was honored with his own regatta last year by the National Family Island Regatta Committee in conjunction with the Bahamas Sailing Association (BSA). Over 100 boats took part in the event, which coincided with Sir Durward's 100th birthday celebration.
Aside from his participation in sports, Sir Durward was well-known philanthropist and humanitarian that has been involved in almost every aspect of our Bahamian society. A successful businessman and one of the driving forces behind One Bahamas that strived to unite all Bahamians.
Due to his wide reach, many prominent Bahamians, including Prime Minister Dr. Hubert Minnis and opposition lead Phillip 'Brave' Davis, extended condolences to Sir Durward's family members during their time of grief.
Minnis said: "The Government of The Bahamas joins with the nation in mourning the passing of Sir Durward Randolph Knowles, a legendary sporting figure, a noted philanthropist and a true Bahamian patriot.  Sir Durward first brought the Bahamas to fame when he won the 1947 World Championship in the Star Class in Los Angeles California. He came to national prominence as the first Bahamian to win a gold medal at the Olympics when he won the gold medal in the same class at the 1964 Summer Olympics in Tokyo. This established The Bahamas as a sporting nation. On behalf of the government & people of The Bahamas I extend condolences to his wife of more than 66 years, Lady Holly Knowles and their three children, Jill, Charlotte and Randy."
Davis added: "The PLP wishes to express our thoughts, prayers and condolences on the passing of the legend in our times Sir Durward Knowles. He was our first Olympic medalist. It was a record that he held for some time until the neat contemporary era. He parlayed his work as an Olympian into that of a tireless promoter of the sport of sailing, the training of young people, and a life full of participation in civic advocacy. He was a good business man. In the minds of ordinary people in this country, the apology raised him head and shoulders above the rest. He then went on to devote his resources to the idea of One Bahamas. On behalf of my wife Ann, the officers and members of the Progressive Liberal Party, I say Godspeed to the Sea Wolf as he was affectionately known. Our country is better because you lived amongst us."