The number of cases of gastroenteritis and conch poisoning in New Providence has experienced a marked decrease.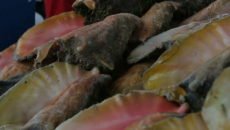 While delivering the good news, Minister of Health Dr. Duane Sands said, that since conch poisoning first surfaced on July 4th health officials have not been able to find conclusive evidence as to what sparked the growth of the bacteria in waters at Arawak Cay, Potter's Cay and Montague Beach.
"We have witnessed a marked decrease in the total numbers of conch poisoning (cases), but we did have another case last week. So, again we reiterate the recommendation to enjoy conch, but make sure it is washed in fresh water," he said.
"We do not believe at this time that there is any connection between any of the excavation works that are happening in the Nassau Harbor and what is happening with the vibrio parahaemolyticus."
The same is to be said for those dozens of cases of gastroenteritis reported at Sandals Resort.
The health minister was unable to conclusively confirm what led to the outbreak.
But Dr. Sands was able to confirm that numbers of confirmed cases of the violent stomach virus are down.