NASSAU, BAHAMAS — "I never imagined there would be a Christmas day I would wake up and not take Bay Street for Junkanoo morning," said longtime Junkanooer and Roots Chairman Wendell Francis.
In the midst of the coronavirus pandemic, both the Boxing Day and New Year's Day Junkanoo parades were canceled, in efforts to contain the spread of COVID-19 in The Bahamas.
The parades are an annual celebration with larger-than-life themed costumes, dancing and music.
However, with COVID-19 cases in the country currently at a lull and restrictions still in place, health officials have classified Junkanoo preparation and parades as "superspreader events" and advised they will not be endorsed or supported by the EOC.
Despite the decision, Junkanooers have widely agreed that the move was done out of an abundance of caution.
Francis said while it is unfortunate that the parades had to be canceled, it is understandable given the need to protect the lives of group members and their families.
"All of these years I've been a part of Junkanoo, I never thought I would have stayed home on the 26th of December, sitting in my house with my family and doing no Junkanoo, but I understand what's going on in terms of the pandemic and all of the heartaches."
Francis noted that the group has also undertaken several initiatives in its downtime with outreach and volunteer work, understanding the drastic fallbacks from the pandemic and its impact on the country.
He said he believes this year will change the way the country celebrates Junkanoo, from the money spent on the spectacle to the participation and membership of Junkanooers.
He said the thousands of dollars that used to be spent on Junkanoo may no longer be available and there will need to be a downscale from the larger costumes and groups as finances remain inaccessible.
"I think there's going to be a different tone to how we approach Junkanoo, how we approach our members," Francis said.
"Because of the economy, it's going to take a while for the country to get out of the slump."
He added, however, that "nothing lasts forever" and he hopes that when it returns, it will be something Bahamians can more greatly appreciate.
"We will get back to the way we were and we will be better than ever. We will just make the adjustments… I think the competitive edge will still be there. We will deal with it moving forward… You will see more appreciation for it."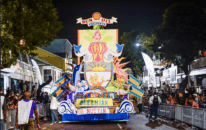 Owen Stubbs, co-founder of the Genesis Warhawks and a Junkanooer for nearly 40 years, said the group remains fired up and excited to see what will happen next year.
"The health and safety of the members and health and safety of the general public are more important to us right now than anything," Stubbs said.
"We are saddened by the fact that we can't go out there and showcase our talents and we have to wait pretty much indefinitely because we don't even know what next year will hold for us.
"We are hoping and we are optimistic that something will break next season."
He said while they are disappointed, they have utilized the lull time to shift focus towards more community efforts.
Meanwhile, Valley Boys Public Relations Director Kishlane Smith said there has been no lag in the thirst and support for Junkanoo from members.
"We are experiencing severe Junkanoo withdrawals," Smith joked.
"This is the first time in my lifetime that there has been no Junkanoo. It has impacted us on a personal level and a camaraderie level."
She said though it's been a "melancholy" year for the group after losing members and relatives of members, the group continues to work together within the community and support each other in their personal lives.
"Despite it all, we are still here and we are together and we are still one and we are still the Valley," Smith said.
"We are optimistic that 2021 will bring us flourishing successes in all aspects."
She said that once restrictions are lifted, the group intends to celebrate.
"When you see that the authorities have granted us the opportunity to roam freely, we will have a massive Junkanoo rush out because we miss each other," Smith added.
"We miss the camaraderie. We miss the music. We miss the pulsating, rhythmic passion of the drums and the bells. We miss the dancing and the laughing and that Junkanoo spirit."
One Family Public Relations Coordinator Anthony "AC" Coakley said while the year has been disappointing given the challenges brought by the pandemic, the group has been keeping busy with multiple projects, including Junkanoo productions online, community outreach programs and assisting members in need.
"We are having withdrawals. Junkanoo withdrawals is what's happening," Coakley said in jest.
"We're all disappointed. Junkanooers in general are disappointed. Lots of persons were looking forward to this year. This was our time, it's our season.
"…It's really heartbreaking, to simply to put it.
"It's like something that is right in your grasp — that Bay Street is right there, and you know that come midnight Christmas night, the things that you would normally be doing, you're not doing that. So, now it's like: 'What do I do? How do I fill this void?' It's the Christmas experience."
Coakley noted, however, that he believes the absence of Junkanoo this year is going to boost the support and morale surrounding the event.
"I think persons are going to regain their vigor, their appreciation for Junkanoo, for what it means as a part of our cultural identity, as a part of the tradition of Christmas."
He noted that for many years, the number of Junkanoo spectators have continued to decrease, but he's expecting a full bounce back given the void this year's cancelation created.
"There's the saying that you don't miss the water until the well runs dry. Now that there's no Junkanoo this year, everybody misses it.
"…I feel that that spirit of Junkanoo is going to be reignited in many persons who just took it for granted."
The Junkanoo Corporation of New Providence (JCNP) partnered with ZNS and Junkanoo242, a local talk show, to produce a virtual parade shown beginning 10pm on Christmas Day and again at 2am on New Year's Day.
Every Junkanoo group was asked to submit footage of their best parade over the past decade that will be aired with live commentary, with groups explaining the thought process surrounding their selection and experiences over the years.