Police cited manager, proprietor and numerous patrons of Charms

NASSAU, BAHAMAS — Centreville MP Reece Chipman indicated yesterday that social gatherings such as the one in his constituency on Tuesday night put the future of the country at risk.
He was referring to an event at Charms lounge on Madeira Street that at least 80 people attended.
"I could not help but notice many parties and gatherings over the past few days, one in particular in the Centreville constituency," Chipman said during debate on the Correctional Services (Amendment) Bill and Defence (Amendment) Bill, 2020.
"We understand how desperate they have made us, but our freedoms and our democracy comes with a price. It's the price of responsibility.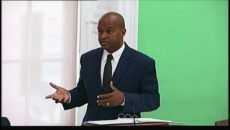 "The only thing that will replace dictatorship is democracy and we need every one of you to make that happen.
"We are all in this together. By not following protocols and the rules, you put yourselves and your families at risk.
"You put your future at risk. You put our police officers at risk.
"Democracy requires each and every one of us to be responsible.
"We cannot and should [not] legislate your choices, but democracy requires responsibility.
"A dictatorship model amplified by COVID-19 extension orders can only be replaced by true democracy, managed democracy, responsible democracy, and therefore we need each and every one of us to be responsible."
Authorities received reports of a social gathering at the lounge around 6pm.
Police said upon inspecting the premises, patrons and the proprietor were found to be in violation of the emergency orders.
"As a result, the proprietor and the manager of the establishment were cited for hosting a social gathering and failing to practice social distancing.
"A number of patrons were also cited for attending a social gathering and failing to practice social distancing."
Purported footage taken by an apparent bystander outside the nightspot showed scores of patrons exiting the club as at least eight police officers stood on either side of the exit.
At one point, a large number of patrons exited at once and bottlenecked the line.
The adjacent street was flooded with people.
Many of the clubgoers seen in the footage were not wearing masks.
The more than three-minute video showed police eventually entering the premises.
Dozens of patrons remained inside.
A police officer could be heard asking for identification.
"Everybody who works here, produce their ID," she shouts.
When contacted, Assistant Superintendent Audley Peters was unable to say how many people were cited.
"The manager and proprietor, as well as others were cited," he told Eyewitness News.
Asked whether police were clamping down on establishments hosting events, Peters said police were "responding to complaints that we received and we're dealing with them".
Cases of COVID-19 have been trending downward on New Providence.
Prime Minister Dr. Hubert Minnis said recently that if the trend continues, The Bahamas could be in store for a "good Christmas".
In a Facebook post, user Sheia Strachan, who claimed police fined her $500 for attending a prohibited social gathering, expressed frustration with the ongoing emergency orders.
She wrote: "I don't care who mad because you could be home all day and someone bring COVID in y'all house. If someone want to go out, let them. Every time partying is involved it's a problem."
In response to another user who suggested the large crowd was packed into the establishment like tuna in a can, Strachan added: "When I came in there [it] wasn't like tuna can. I'm not the tuna. I don't control the crowd. I make my money and spend it where I want to spend it."
While the majority of comments were critical of the post, lamenting the number of people in the sports lounge and the lack of mask-wearing, others were more understanding of the frustration with the restrictions.
Another Facebook user said the emergency orders or those enforcing them will not stop her from having a good time.
While it was unclear if that user attended the event, she wrote: "When I ready to touch the road and drink this rum, I touching the road and drinking this rum.
"Minnis ain't stopping that. The COVID paw patrol ain't stopping that and the party watching committee on Facebook ain't stopping that either. The end."