NASSAU, The Bahamas — Minister of Youth, Sports and Culture the Hon. Michael Pintard waves his newly-purchased first set of Flow CARIFTA Games Bahamas 2018 tickets, during the official launch ceremony of ticket sales for the event, on January 15, 2018, at the Thomas A. Robinson National Stadium.   Bahamas Association of Athletic Associations (BAAA) President and Chief Executive Officer (CEO) of the CARIFTA Games Bahamas 2018 Rosamunde Carey looks on.  CARIFTA is slated to take place in The Bahamas at that stadium, 
March 30th to April 2nd, 2018
, and 26 countries are expected to participate with about 500 athletes.
Minister Pintard lauded the efforts of all involved and welcomed international visitors to The Bahamas for the event.  He added that the Government did not need to be sold on the value of CARIFTA.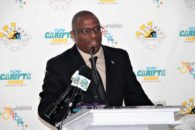 "We have been intimately involved from the early days; and we appreciate that sports is a means of national development, and we are committed to utilizing sports and, of course, the many sports persons throughout the country — past and present — in transmitting the kind of values that are necessary to develop our young people," he said.