Business community furious as island impacted at 'worst time'
NASSAU, BAHAMAS- Works Minister Desmond Bannister yesterday blamed Bahamas Power & Light's (BPL) four-day outage on Harbour Island on its former management as residents and businesses lamented a black Christmas.
In a statement, BPL said mechanical defects knocked the on-island rental generation offline, and confirmed power was fully restored to the island before 6pm yesterday.
Bannister pointed to 'terrible investments' in generators, which failed ahead of the Christmas holiday.
"Harbour Island has some of those generators brought in here by Power Secure," Bannister said.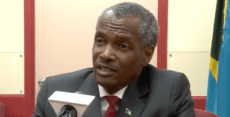 "They had initially brought in five of them and I think three failed. They had two left and those two failed this weekend. They were terrible investments for The Bahamas. It was a poor decision for the country."
Bannister added: "My understanding is that they have power restored now. BPL brought in some generators and power has been restored."
Members of the business community slammed the 'irresponsible' lack of communication over the issue and the fact that the prolonged outage occurred at a time when the island was packed with guests looking to enjoy the Christmas holiday.
One businessman told Eyewitness News Online: "It's a very bad situation".
The blackout is reminiscent of power issues the island suffered back in 2015.
That year the island's long-standing power supply woes were highlighted following a series of electricity plant fires in April, and another in June of that year during the key holiday weekends such as US Memorial Day. 
The following year, Power Secure installed a six mega-watt plant on Harbour Island to serve as a stand-by plant.
The island would continue to run on power generated on mainland Eleuthera.
Marcella DeGregory, a Sales agent with Dunmore Realty, said: "I do property management as well as sales and rentals. We have an island filled with people right now.
"No one is giving any definitive answer as to what is happening for four days. It was horrendous. People were looking to me as their rental agent wondering if they can come down with their families and when they would get power."
DeGregory continued: "No one was giving answers. People have been running generators for four days and we are now low on diesel and the propane generators are out of propane. It's a disaster.
"On a more local level, you have Bahamians who may have had a ham or turkey to cook for Christmas and couldn't enjoy their Christmas dinner. That pissed me off."
"I have one house of people, guests to the island and they're paying anywhere from $10,000 to $50,000 to be here this week. Some of them are just so glad to be here. They've really taken it in stride.
She said: "Due to the fact that we have no power there was no running water to bathe or flush the toilets and so people were bathing in the pool and getting water from the pool to flush the toilets. It's cute in the beginning but then it gets tiring.
"Every thing seems to be ok now. Hopefully it's all sorted out."
Yesterday, BPL confirmed rental generators have been replaced.
"Our initial investigation into the incident appears to indicate that the cables connecting Harbour Island to the mainland at the Three Island Dock site failed sometime after the generators came offline," read a BPL press statement.
"The two incidents are not connected, and investigations into the cause of the failure of the cables is due to be completed by Friday of this week. Ultimately, it was the the breakdown of the rental generation, combined with failure of the cables, which caused the power supply difficulties on the island over the last few days.
The statement continued: "However, when the cables at the Three Island Dock site went down, BPL was able to take advantage of a new cable recently installed at our Whale Point Crossing site to bring supply back to portions of the island."
BPL said a technician from the rental company was able to get to the island by 2pm Thursday to assist in bringing the new rental generation online.