Airbnb: People want to travel
NASSAU, BAHAMAS — A revolution is changing how we live and work, bringing about a revolution in how we travel. The COVID-19 pandemic has suddenly untethered tens of millions of people from the need to work in specific places at specific times.
They can now work from anywhere, travel any time and stay for longer. While technologies like Zoom make it possible to work from home, Airbnb is making it possible to work from any home — and ultimately, to live anywhere.
"For Airbnb, 2021 has been a year of relentless innovation to refine our core service," said Brian Chesky, CEO and co-founder of Airbnb.
"With the Airbnb 2021 Winter Release, we've delivered more than 150 upgrades and innovations this year. Our design-driven approach means that we're constantly improving our service to adapt to this changing world.
"For the first time ever, millions of people can now travel anytime, anywhere, for any length and even live anywhere on Airbnb. This is a travel revolution."
Based on this travel, the company presented +50 new products upgrades, including:
"I'm (even more) Flexible"
Earlier this year, the company introduced 'I'm Flexible', a whole new way to search on Airbnb when you are flexible about where or when you are traveling. Since then, guests have used 'I'm Flexible' more than 500 million times. Due to the popularity of this feature, the company is expanding the date range where guests can search to 12 months out (from six). Airbnb is also expanding 'I'm Flexible' to include four new categories of unique stays: off the grid, ski-in/ski-out, luxe and offbeat homes.
Translation engine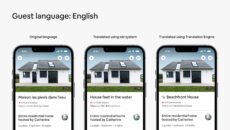 Even before the latest announcements about lifted border restrictions, Airbnb was seeing recovery in both longer-distance and cross-border travel. Overall, cross-border travel has been increasing steadily throughout the year, from 20 percent of gross nights booked in the first quarter to 27 percent in the second, to 33 percent in the third. For October 2021, cross-border travel gross nights booked hit approximately 80 percent of levels from October 2019.
As cross-border travel returns, Airbnb's new translation engine will provide a seamless experience for hosts and guests in over 60 languages. The translation engine removes the need for click-to-translate buttons by automatically translating listing descriptions and reviews. Based on results from a study across Airbnb's top 10 languages commissioned by a top machine translation evaluation company, the translation engine is anticipated to improve the quality of more than 99 percent of listings on Airbnb. The translation engine uses millions of Airbnb data points to improve translations, so it will get even smarter over time as it learns from new content that's submitted.
AirCover
As for what travelers are looking for now, it's Wi-Fi and workspaces, in keeping with the shift toward remote work, along with kitchens, in keeping with living anywhere. Globally, the most searched-for amenities in recent months were:
Pets allowed.
Pools.
Wi-Fi.
Kitchens.
Free parking.
Since more guests than ever before are choosing to stay in a listing on Airbnb, which is leading to more people wanting to host to take advantage of this growing opportunity, to offer even more reassurance to the existing four million hosts and make it even easier for new hosts to take that first big step, Airbnb is also introducing AirCover.
AirCover provides top-to-bottom protection for every host on Airbnb, with $1 million in damage protection and $1 million in liability coverage.
AirCover also includes income loss protection, pet damage protection, deep cleaning protection and more.
Airbnb pioneered host protection a decade ago with the industry-first Host Guarantee. After 10 years of learning from hosts, Airbnb has reimagined the program, expanding protections and creating faster payouts.
AirCover is always included and always free for all new and existing hosts.