Less than one week into the 2018 Atlantic Hurricane Season and officials of the National Emergency Management Agency (NEMA) are sounding the alarm on the importance of preparedness.

NEMA officials, joined by Prime Minister Dr. Hubert Minnis, gathered at New Providence Community Centre (NPCC) Sunday to mark the start of the 2018 hurricane season.
NEMA Director Capt. Stephen Russell said the season is predicted to be above average.
"The experts are predicting an above-average season with 15 or more named storms, 70 named storm days and three or more major hurricanes ranking category three and above," he stated.
He asserted that an active season means that preparedness is vital.
For the first time, the nation's chief – Prime Minister Dr. Hubert Minnis – has declared June as National Preparedness Month.
"Our focus is on preparedness at all levels," Russell asserted.
"We want persons preparing at the household level. What do you need to do to prepare yourself at the household level? If you know you were impacted by storms over the past few years. Identify the things that you need to do to be prepared ahead of any storm."
He also encouraged business owners to begin taking necessary steps to ensure their establishments are storm ready.
The government has reportedly shifted its approach to preparedness as well.
Foreign Affairs Minister Darren Henfield recently confirmed to Eyewitness News that the country has already made requests to international countries for disaster concessionary loans ahead of the 2018 hurricane season.
The government has also renewed the country's catastrophic risk insurance.
But no matter how financially prepared the country might be, the prime minister cautioned that government will sometimes experience shortfalls in the wake of natural disasters.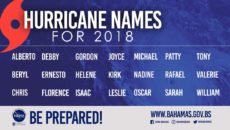 "The facts are that if a complete disaster occurs where homes are completely destroyed, the government will never have the resources to rebuild everyone's homes again," shared the prime minister.
"Unfortunately, the last government Progressive Liberal Party (PLP) did an excellent job in selling to the people that they can build their homes again. But, we just cannot.
"People will have to take some degree of responsibility and the government will do all that it can to ensure that infrastructure is replaced."