A man is dead after being killed in a four-car collision at the corner of Malcom Road and East Street yesterday.
Police say the victim was struck after a woman – who was involved in a hit and run just a few minutes prior- fled the scene only to cause the fatal wreck.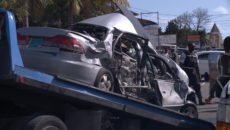 A medical doctor who was on scene, rendered assistance along with Paramedics, but was unable to revive the deceased, who was also a driver of one of the vehicles involved in the pile up. He was pronounced dead at the scene.
Police Traffic Division Chief Superintendent, Craig Stubbs, was present at the scene while officers conducted their investigations of the mangled wreck. He suggested that had the woman remained at the initial incident, a life could have been saved.
Stubbs cautioned motorists but also called for stiffer penalties for breech of traffic laws. Concerned motorists on the scene also called for changes to be made to the road way recommending that Malcolm Road East to be changed to a one-way transit.
This marks the 13th traffic fatality for the year and according to Stubbs, the majority those accidents had women at fault.
In other crime news, shortly before 2:00 p.m. yesterday, ANTI-Gang and Firearms Officers, acting on information went to John Street, where they saw a male standing on the side of the street. Upon seeing the officers, the man ran from the area, making good his escape.
Officers conducted a search of the area where he were standing and recovered a 9 millimeter pistol and a quantity of marijuana.
Investigations in to both matters are ongoing.