NASSAU, BAHAMAS — A Grand Bahama-based sustainability investment platform is working with international partners to raise $10 million to fund and support up to 35 cutting-edge science and technology startups working to mitigate climate change, increase ocean health, and build coastal resilience in vulnerable countries like The Bahamas.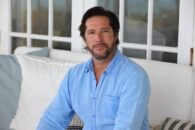 The Blue Action Accelerator supports blue and green companies that seek to build sustainable futures for coastal communities and the ocean ecosystem. The initiative aims to align with the progressive climate action goals of jurisdictions like The Bahamas to build local solutions that also have global applications. 
"The Accelerator leverages international expertise and capital to build climate resilience and create opportunities for growth of the blue and green economies, for the benefit of all Bahamians," said Rupert Hayward, founder of the Blue Action Lab in Grand Bahama.
"We want to support the development of technologies that will boost the environmental, social, and governance (ESG) capabilities of individual companies and whole jurisdictions like The Bahamas, which have shown a commitment to taking meaningful action to mitigate climate change. Helping The Bahamas fulfill its aims, while crafting solutions that will protect all communities on the frontline of the fight against global warming, rising seas, dying coral reefs, increased coastal flooding, and stronger hurricanes, to name but a few of the dangerous effects of climate change."
​The joint initiative, which also includes Founders Factory, a global company builder and early-stage investor, has already raised $3M from Builders Vision, Innovaciones Alumbra, and another large blue economy investment fund, and has begun operations. 
Peter Bryant, Builders Vision Program Director, said: "The partnership between Founders Factory and Blue Action Ventures will undoubtedly accelerate innovative business models focused on the blue economy.
"As their supporters, we earnestly believe the significant international experience of Founders Factory as a leader in helping launch new ventures, combined with Blue Action Ventures' strong blue economy policy work and local relations in the Bahamas, will create a unique learning laboratory for new businesses to flourish, helping to solve some of the most pressing issues facing our oceans."
The plan is to provide investment, operational support, and strategic local stakeholder capacity-building for the development of tangible climate mitigation and adaptation solutions that promote resilience for low-lying coastal communities worldwide.
The Accelerator offers entrepreneurs operational support, equips them with the expertise necessary to overcome current barriers to scaling ocean solutions, and helps them qualify for permits and access to natural testing grounds in collaboration with local and national governments around the world.
Early-stage start-up founders joining the Blue Action Accelerator each receive a $150,000 equity investment and six months of bespoke operational support. The Blue Action Accelerator has key partnerships on Grand Bahama Island and with Miami-Dade County, among others, and these relationships will help facilitate access to natural testing grounds, and routes to market and enable strategic partnerships in high-priority jurisdictions. 
Such relationships are central to Blue Action Accelerator's mission to build a global network of environmental proving grounds for climate founders to test and validate their products and share best practices and strategies worldwide.
Hayward, who is a Blue Action Accelerator board member, said the aim is to accelerate sustainable futures for low-lying coastal communities through the injection of early-stage capital and the provision of support to ESG Blue and Green companies.
Grand Bahama native and Applied Technology Expert C. Allen Johnson said he wholeheartedly supports the project and urged all stakeholders, including the Bahamas Government, to take immediate action to make it a reality.
He said the Accelerator "has immense potential to drive progress in climate tech, ocean tech, innovation, research, data collection and aggregation, and development of nascent technology."
Johnson added: "It is imperative that we collectively work towards the success of this initiative, as it could bring global attention to Grand Bahama and The Bahamas as a whole. Let us come together to build back better and stronger, and demonstrate our commitment to preserving our planet's vital resources." 
To apply to join Blue Action Accelerator or to find out more about the program please visit www.blueactionaccelerator.com