Govt. to expand designated tax-free zones
Prime Minister Dr. Hubert Minnis said Wednesday night that while he and Centreville MP Reece Chipman have disagreed on certain government issues, the pair has a united goal and speak with "one voice" on when tackling poverty and improving Over-the-Hill communities.
His statement came during a town hall meeting on the Economic Empowerment Zone Act 2018 at the Grants Town Wesley Methodist Church on Baillou Hill Road.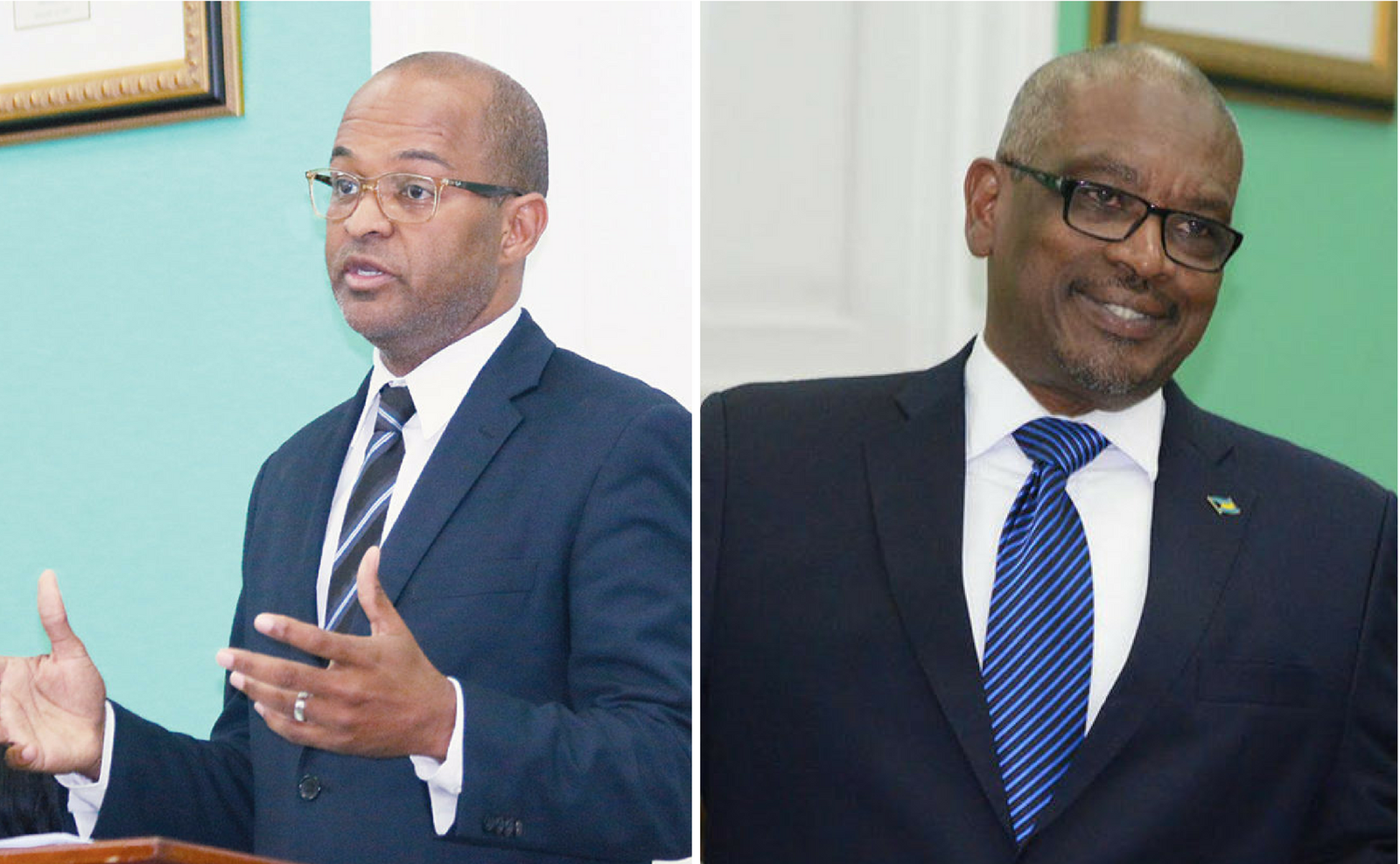 Looking towards Chipman, Minnis said disagreements are not uncommon in government.
"Husbands and wives disagree on certain points, but the bottom line [is] when they come out, they come out and speak with one voice, and we speak with one voice. We have one goal and our goal is to attack poverty and change our environment.
"That would never change between us. We may differ on other things just like husband and wife, but the goal in improving the quality of life for individuals will always be the same — and he has been working hard to do that."
The statement received a round of applause.
"The other member of Parliament, who unfortunately had some other commitment has been doing the same thing," Minnis said in reference to Bain and Grants Town MP Travis Robinson, another FNM MP who has fallen in line on key government decisions.
In March, Minnis fired Chipman as the chairman of the Antiquities, Monuments and Museums Corporation (AMMC).
The firing came after Chipman refused to resign and wrote Minnis detailing a series of alleged violations at AMMC, which he said the prime minister ignored.
In June, Chipman, Robinson, Golden Isles MP Vaughn Miller and Pineridge MP Frederick McAlpine voted against the government's proposed value-added tax hike from 7.5 per cent to 12 per cent.
The four MPs also voted against a resolution that sought approval from Parliament for the government to enter into a five-year lease agreement with a company partly owned by Minister of Finance Services and Immigration Brent Symonette.
Addressing attendees, Minnis said he understands that people wish to see change overnight, but his administration cannot achieve its vision in one year.
"It will take time, but one promise I can give you is that as long as I am here and this party is here, we will continue along that road to success, to make those changes," he said.
"That commitment you can be assured of."
Chipman said the Over-the-Hill initiative is one he fully embraces, and looks forward to doing all that he can to realize the prime minister's vision for these communities.
He said he looks forward to the tax-free zones expanding.
"This is one of those initiatives that will take all of us to make it work," he said.
"The prime minister has already set the groundwork. He has set the framework for what it is he would like — his vision — and now it is up to us to ensure that in as much as we can… we get as much done as possible…"
Bain Town and Centreville encompass the first economic empowerment zones — from Nassau Street to Collins Wall, and from Wulff Road and Poinciana Drive to Delancey Street.
The Economic Empowerment Zones Bill was passed in Parliament in July and came into effect on November 20.
It offers benefits for residents and businesses in the designated zone, including exemptions from real property tax; customs duties related to construction; excise taxes and stamp taxes imposed on real property.
The concessions do not extend to businesses that make revenue from selling alcohol or gaming services.
Minnis maintained that the government will look at other "depressed areas, so we can elevate them as much as possible".
"We intend to extend such zones and benefits to Englerston, after which we will extend it to other depressed areas; sectors of Kemp Road and sectors of Fox Hill, and Rock Crusher, and even where I live now: Gambier," he said.