Former PM maintains RCCL deal best in the 'global picture'
Minnis: Royal Caribbean investment would benefit scores of Bahamians rather than 'one or two'
NASSAU, BAHAMAS — Former Prime Minister Dr Hubert Minnis yesterday defended his administration's Paradise Island Crown land deal with Royal Caribbean Cruise Lines (RCCL), stating that the benefits of the arrangement outweigh what was granted in the lease.
Minnis, who was addressing the issue during the 2021/2022 supplementary budget debate, stressed that his administration had negotiated the deal for the national benefit "rather than one or two individuals".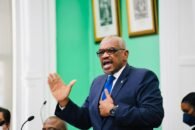 "It has always been the government's policy that we do not sell Crown land to foreigners or grant Crown land to foreigners," said Minnis.
"As a matter of fact, we look at the global picture as to the advantage of leasing Crown land to foreigners rather than one or two individuals benefiting. We looked at the global picture to ensure that the nation would benefit.
"Yes, it is a lease for $140,000 per year for 25 years, with extension, but the benefit certainly outweighs the lease of the property."
He added: "RCCL would embark on a $55 million investment on that particular property.
It has always been the government's policy that we do not sell Crown land to foreigners or grant Crown land to foreigners.
– Former Prime Minister Dr Hubert Minnis
"In fact, they are even increasing that. There would be many jobs created for Bahamians, all of the investments on the property would be ran by Bahamians and RCCL would assist Bahamians with funding to ensure they are involved.
"Eighty Bahamians would be involved in construction, with excellent salaries, and upon completion, there would be an additional 150 to 200 Bahamians hired at a salary of $30,000 to $40,000 per annum.
"RCCL presently brings about one million tourists to The Bahamas. With this project, the numbers would increase, which would benefit all Bahamians, especially those within the hospitality and tourism industry."
Minnis further noted that ferry boats would be needed to transfer visitors from the cruise line to its beach club destination.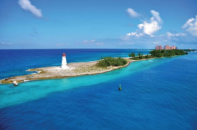 "RCCL would engage with Bahamians so they would be involved and possibly own the ferry boat," said Minnis.
"We know that the ferry boats utilized today must meet the standards required by the International Maritime Organization and therefore RCCL would ensure that Bahamians have adequate ferryboats to meet the certifications and standards.
"This would create vast entrepreneurship and allow for Bahamians as opposed to one individual."
He added: "I agree that the standard lease time is 100 years and I'm certain that RCCL would have no problem with reverting to rather than 150 to 100 years."
Local entrepreneur Toby Smith has proposed a $2 million restoration of Paradise Island's lighthouse and is embroiled in an ongoing court battle with the government over a Crown land lease agreement that covers land included in Royal Caribbean's lease.
Smith maintains that he was granted a valid Crown land lease for the land on which the lighthouse is situated and the area at Colonial Beach for his "beach break" destination.
Smith has taken legal action over the matter and remains confident that the courts will rule in his favor.
Meanwhile, environmentalists continue to appeal to Prime Minister Philip Brave Davis to end the agreement with RCCL.