DPM maintains govt "fully committed" to developing major airports in country
NASSAU, BAHAMAS — Deputy Prime Minister Chester Cooper yesterday confirmed that the Davis administration has "put a hold" on some $400 million in airport upgrades as it determines whether the model is aligned with its policies.
Cooper, who has ministerial responsibility for Tourism, Investments and Aviation, told reports yesterday: "We have a briefing this week. It was intended that the initiative would proceed at the end of September.
"We put a hold on it at the moment.
"We want to ensure that what has been done is consistent with the policies of our government. Once we have completed our review, you will hear more about it.
"We are fully committed to developing the major airports in our country.
"We recognize we do not have the financial headroom to do it ourselves.
"In principle, we are onboard with public-private partnerships (PPP). We just have to look at the model to determine whether it is in line [with] the way we would do it.
"We haven't had a chance yet to do an extensive analysis, but we are going to do that during the course of this week."
The request for qualification process, where bidders on the airport projects are assessed and qualified for the actual bidding or request for proposal (RFP) phase, was to be launched in mid-September.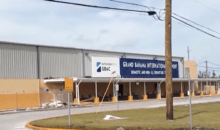 Construction work on Exuma's $65 million transformation has already begun, while the $15 million worth of upgrades to Great Harbour Cay are almost finished. 
The Exuma and Great Harbour Cay airports, along with Grand Bahama International Airport, which was destroyed by Hurricane Dorian in 2019; the Leonard Thompson International Airport on Abaco; North Eleuthera International Airport; the Long Island International Airport on Deadman's Cay; and San Salvador International Airport, are all a part of the airport upgrades initiative.