Though ongoing road works on Farrington Road have caused some traffic congestion in surrounding areas during peak daytime hours, Director of Public Works, Melanie Roach, told Eyewitness News Online that it is an effort that will provide a positive outcome in the long run.
"The road works have to be done because Farrington Road has been in very bad condition," Roach said.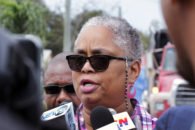 "It was just like riding on a roller coaster so persons will have to suffer just through the 10 days to get a nice road that persons would want to drive on."
The first phase of an island-wide road improvement project, began Monday on Farrington Road and is expected to be completed, weather permitting, by March 16.
The current project, which extends from the six-legged roundabout to Boyd Road, has an estimated price tag of $728,000 – a fraction of the proposed $10 million needed for the entire project.
Once the road works on Farrington Road have been completed, the road improvement project will begin in Lynden Pindling Estates, the Culbert's Hill area and Seabreeze Estates. Village road will be tackled in mid 2018.
Roach confirmed that the Ministry of Works is working in tandem with utility companies to ensure that all utility work and repairs are completed before any paving work is carried out.
"We do not do any work until we have gotten confirmation from all the utility companies to confirm that all planned works are done," she explained.
"Of course, if there is an emergency then they will have to deal with it. So, we have instituted a new policy where if they have to trench a newly paved road, they are expected to mill and repave 50 feet ahead and 50 feet after so that you get a better surface.
When asked why the government opted for daytime repairs instead of carrying out the road works during the evening house, according to Roach, the bottom line was paramount.
"Well, expense. It's a matter of expense," she said.
"Nighttime work is very expensive. So that $728,000 could go up to $1 million. So we are trying to be as careful with the government's money as we possibly can because the extra money we would spend on doing overtime work, we could use that to pave another road."
Sixteen persons have been assigned to undertake the massive road improvement project.
The Ministry of Works confirmed that there are no plans to increase the width of roads but the profile on the newly paved roads will be improved to provide a nicer aesthetic and to ensure proper drainage.