MP calls for increased, free testing for Grand Bahamians
NASSAU, BAHAMAS — Cases of COVID-19 on Grand Bahama increased from 49 between November 1 and November 7 to 99 in the last week, a more than 100 percent increase.
The island, which has the second largest number of infections, recorded a combined 41 cases over the weekend, outpacing New Providence where the majority of the population resides.
New Providence recorded 25 confirmed cases — six on Sunday, 11 on Saturday and nine last Friday.
Grand Bahama recorded 11 new cases on Sunday, 23 on Saturday and seven cases last Friday.
The island recorded 19 cases last Thursday.

During a Ministry of Health press conference last week, health officials attributed the recent increase to exposures at an industrial job site.
A reported 26 of the 38 cases on the island last Wednesday originated from employee interactions in the workplace among an electrical team.
Three of the remaining 12 cases originated from another business on the island, four had no origin linked to a workplace or any other cases and five cases were being sought after as there were gaps in their contact information data.
When asked whether the island was undergoing a cluster of cases or community spread, Dr. Frank Bartlett, head of the GB COVID-19 Task Force, said: "It is a mixture of both and one of the — what I would have mentioned in the beginning — we have defined clusters within different workplaces. But we still don't have a clear-cut explanation for the ones that we are seeing coming into the Accident and Emergency room."
He said more data and analysis is needed to conclude whether there is community spread, which will determine the way forward with potential restrictions.
Bartlett said: "The important thing about establishing whether or not you have community spread is that is going to be the determinant as to what type of restrictions you are going to be putting in place."
Cases have been on the rise on the island since early-October.
During the period October 11 to 17, Grand Bahama recorded 23 cases.
In the following week, the island saw 59 new infections.
There were 32 confirmed cases during the week October 18 to 24, and 49 new infections in the next week.
When contacted yesterday, Pineridge MP Frederick McAlpine said while he does not believe a lockdown should be imposed for the island, the government's testing protocol should be expanded and made free for Grand Bahamians.
He also opined that while Grand Bahamians have generally been disciplined, some have become more relaxed or fatigued with the emergency orders of late.
"We have to ask our people not to become wary and well-doing and to continue to wash their hands, social distance and wear face masks," he told Eyewitness News.
"I don't know if it is because there has been a global spike that we, too, are experiencing it. Then of course, there has also been a change in the weather, so it is imperative for the people of Grand Bahama and throughout the country to recognize that despite what we feel, that we must try to continue to follow the protocols.
"There still seems to be a lot of social gatherings. I am seeing videos on my phone in the north relating to people just clustering together and those are things we should be avoiding as a people in order to move forward.
"The deaths are also unfortunate because if you have a high spike or a renewed spike in this pandemic, then it also calls for a spike in our deaths as well."
Asked whether restrictive measures should be returned to the island, McAlpine said: "I am not sure if the lockdowns are working, I have always said that. I am an advocate [for] more testing and there should be free testing. I don't subscribe to this lockdown…"
Grand Bahama has a 9 p.m. to 5 a.m. curfew and limitations on weddings and funerals, which have been limited to 10 people.
The emergency orders allow churches to conduct services, schools to offer in-person learning and restaurants to allow patrons in premises with 50 percent of the maximum occupancy.
Social gatherings have been capped at 20 people at a private residence or facility, though health officials have encouraged the avoidance of such gatherings.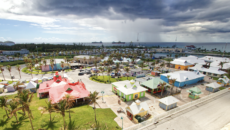 The island last underwent a lockdown between July 23 and August 19 amid a surge of cases.
By mid-August, cases slowed on the island, dropping from high double-digits per day to single digits.
To date, a total of 915 cases and 17 deaths have been recorded on Grand Bahama.
Seven of these deaths were confirmed on Saturday.
The ministry confirmed the death of a 42-year-old woman on Grand Bahama on November 1 and also classified six other deaths that were under investigation.
Of those deaths, there were five men, aged 54, 52, 42, 78 and 83; and one woman, aged 33.
The deaths occurred between October 21 and November 9.