NASSAU, BAHAMAS — Nearly 1,500 vendors have registered on the government's new procurement platform since its launch last November according to Prime Minister Philip Davis, with the government realizing nearly $3 million in savings from its use.
During his contribution to the Public Finance Management and Public Procurement Bills debate, Davis said: "We will also have fully digital public procurement with the roll-out of the Go Bonfire Platform: a best-in-class procurement platform that is being implemented throughout the public sector and in the Public Hospitals Authority. 
"Since the launch of the platform last November, 1,490 vendors have been registered. 299 opportunities have been contracted during this period and the estimated savings from the use of the platform is $2.6 million.  This number is expected to grow as more agencies move their procurement processes online."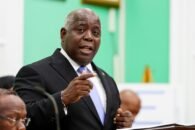 Davis noted that the new Public Finance Management and Public Procurement Bills would repeal and replace the Public Finance Management Act 2021, the Fiscal Responsibility Act 2018, sections of the Financial Administration and Audit Act and The Public Procurement Act 2021, while "correcting issues surrounding practical implementation, and delivering improved government financial management and transparency on behalf of the Bahamian people."
Davis argued that the previous Public Procurement Bill produced unintended public policy consequences that his administration is keen on avoiding. 
"One of the worst examples of this is seen in the unequal granting of contracts," he continued.
"The processes put in place created an environment in which large vendors are able to dominate the competition. For example, in the procurement of food, one vendor by virtue of its size and corporate relations, dominated the procurement of food on behalf of the Government.
"Under the current Act, this dominance is allowed. In fact, it is an outcome that the Act, as written, intentionally brings about. However, common sense would tell you that the government nor the Bahamian people want to exist in a reality where only the largest, richest companies with the most resources get every contract. We can all agree that the role of government should be to broaden opportunities for a diverse range of Bahamians. Our small and medium-sized businesses deserve opportunities too," said Davis.
He added: "The new Bill does the opposite of what the current Act does, by allowing for the preferential treatment of specific groups. We will introduce preferences for micro, small, and medium-sized enterprises, women-owned businesses, Family Island businesses, and youth-owned businesses. These are high-priority areas we are targeting as a government to diversify opportunities in The Bahamas."
The prime minister further noted that the government is ensuring that all participants in procurements processes are registered by the Public Procurement Department where the current Act did not include international bidders in the registration process.
"We are lowering the threshold for establishment of a tender committee to review bids and award contracts from $50,000 to $25,000 for more transparency on government contracts. We have revised all financial thresholds for greater flexibility, transparency, and efficiency, to facilitate faster procurement agreements and completion of contracts. Contracts below a certain threshold will now automatically be reserved for national bidders," said Davis.
"Special permission will have to be granted for these procurement processes to allow for international bidding. Specific justifications must be given for approval of this request. For example, it could be for a good or service that is not available in The Bahamas. In all other cases, any contract amount below that threshold will be reserved and granted to local companies. We are preserving opportunities for Bahamian business owners.
"We are also introducing greater accountability for all parties. Under the new Bill, bidders who attempt to influence or induce the award of a contract by offer of employment, gratuity, or any other offer of value will be disqualified. This is yet another area that will be strengthened, among many others clearly and specifically outlined in the Bill."
Davis sharply criticized the former administration for failing to replace the existing financial management systems despite the funding being left in place to do so. 
"We left in place funding to replace the existing financial management systems when we demitted office in 2017. To our shock, when we returned to office in 2021, there was very little progress. The Government's payroll system has been in use since 1998. The hardware it sits on is no longer supported by the manufacturer. Despite the funding being in place, in four years they did little to address this situation," Davis said.
"No wonder the payment backlog increased so much while they were in office. Defunct software and outdated hardware were kept in place by obsolete leaders. The real victims of their inaction were the thousands of public servants who showed up to work every day but were unable to receive the money they earned.
"This is not just a hiccup in the system," Davis sajd.
"We are talking about people's careers and livelihoods here. On realizing the full extent of the issue, within our first month in Office, we got to work clearing out this backlog. Some of the stacks of files were piled all the way up to the roof of the Ministry of Public Service and were left untouched for four and a half years.
"That could not happen on our watch. Every public servant deserves the pay they have earned. And as we prioritize getting owed payments through the system, we are investing in a Digital Document Management System and Human Resource Management Information System to ensure that this backlog never happens again," said Davis.