"When I heard it I thought I had won the lottery and I screamed"
NASSAU, BAHAMAS – Carlos Outten Jr, a 21-year-old Bahamian who graduated from college on Sunday, is still in disbelief and reeling from joy.
Despite receiving several scholarships, coupled with the financial assistance of family members, Outten was still some $20,000 in debt when he walked across the stage on Sunday to receive his undergraduate degree in Theater from the prestigious, historically-black Morehouse College in Atlanta, Georgia.
As Outten listened attentively to the commencement speaker, who inspired students to pursue their dreams as they moved into a new chapter of their life, he had no idea that the hefty $20,000 loan, which would hover over his head for many years to come after graduation, would soon be eliminated.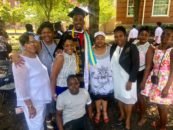 Outten, one of 400 seniors at Morehouse College got the surprise of their life when billionaire investor Robert F Smith announced during his commencement speech that he would pay off the student loan debt of the 2019 graduating class – in full.
"On behalf of the eight generations of my family who have been in this country, we're going to put a little fuel in your bus," Smith told graduates before saying his family was creating a grant to eliminate their student loans.
The announcement, which made the rounds yesterday on social media and on many news sites in the United States, was met with a standing ovation and chants of "MVP!"
"Now, I know my class will make sure they pay this forward," Smith continued. "I want my class to look at these (alumni) – these beautiful Morehouse brothers – and let's make sure every class has the same opportunity going forward, because we are enough to take care of our own community. We are enough to ensure we have all the opportunities of the American dream."
Yesterday, in a telephone interview with Eyewitness News Online from Atlanta, Outten, who enrolled at Morehouse College in August 2015, said his initial reaction upon hearing this news was one of excitement.
"When I heard it I thought I had won the lottery and I screamed," Outten recalled.
The Morehouse alumnus, who graduated with top honors on Sunday, said while he had earned three scholarships, which has greatly assisted him, he still has encountered some debt.
"Although I have all three of these scholarships, I still have $20,000 in debt in school," Outten revealed, adding that this debt had to be paid off immediately after graduation.
"I would have had to find a job while paying off this debt and at the same time pay for rent and for living expenses as an independent artist, so I prayed to God and asked God to handle it for me. I never expected him [the commencement speaker] to come there and just eliminate $20,000 plus interest off of my life.
"I have friends with more than $150,000 in debt, so I can only imagine how they feel."
Outten said when the announcement was made by the commencement speaker that he would pay off the student loans of the graduating class, he could see his family members in the stands celebrating and screaming.
"My family has been a major support system for me from birth until now. They support me financially and they support me in so many different ways, so of course when they heard, 'debt-free' I can only imagine how thankful they were and how grateful they were," Outten said.
Outten's Aunt, Lashonne Outten, told Eyewitness News Online that Carlos's grandmother was sitting in the stands at the graduation ceremony and she was somewhat 'dozing off' during the commencement address. She noted, however, that once the announcement was made by the speaker that he would pay off the debt of students, her mother immediately woke up.
"She said 'what he say,'" Lashonne Outten recalled. "I told her that Carlos is debt free and everybody started screaming, so we were all excited to hear this news."
Carlos Outten said the news from Robert F. Smith was also a self-fulfilling prophecy as he was told by a prophet before enrolling at Morehouse that he would be free of debt.  He said he figured that having scholarships and not having to pay for school for three years was enough, but God, on Sunday, fulfilled the prophecy that was given to him four years ago.
Outten said the 2019 graduating class is eagerly awaiting feedback from Morehouse College of when their debts would be officially paid off.
As it now stands, Outten, a member of Teach for America, said he plans to teach in Atlanta for the next two years before heading to graduate school.
Outten attended Morehouse on an athletic grant. He is an Oprah Winfrey Scholor and a member of the Oprah Winfrey Advisory Board at Morehouse College.
He also has a scholarship from The Bahamas government.
Outten was recently accepted into the 2019 New South Young Playwrights Festival at Horizon Theatre Company as well as to Harvard Business School Online.
"One of the main things that I am really keen on is to be an artist and a social activist; helping to better the community," he said.
Carlos Outten is the son of Carlos Outten Sr and Winifred Dixon, and the grandson of Virginia Outten and Betty Mae Wilson.