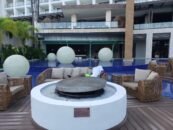 NASSAU, BAHAMAS — Known for rewarding their loyal customers through various social media promotions, contests and celebrations, Jimmy's Wines & Spirits joined forces with Corona beer brand to offer its customers a chance to "Rediscover Paradise" and make their travel dreams a reality by visiting the Dominican Republic.
Joel Smith, ABInBev brand manager, explained: "Corona as a brand has positioned itself as the perfect cooler companion for persons who want to celebrate and enjoy paradise.
"After two years of adjusting to the new normal, the 'Rediscover Paradise' was an invitation for fans of our products to do just that, whether that means exploring our own local paradise or, in this case, exploring the paradise that is the Dominican Republic.
"Each purchase of a Corona six-pack gave our customers an opportunity to win the trip. It included first-class accommodations at a five-star, all-inclusive resort and access to amazing activities and experiences, which allowed them to explore the island and rediscover paradise for themselves."
For two of the brand's customers, a single purchase of a Corona six-pack from their favorite Jimmy's Wines & Spirits location unlocked the trip of a lifetime. Denise and her husband Ralph Johnson returned this past week, relaxed and refreshed from the Dominican Republic.
"The entire trip was a dream come true," said Denise. "The entire experience was phenomenal.
"From the welcome gifts, the overall ambience, service par excellence, the Scape Park day excursion and more.
"So, hats off to the Corona and Jimmy's Wines & Spirits team."
The "Rediscover Paradise" promotion was launched in August and culminated at the end of September.
Executive Sales and Marketing Manager at Jimmy's Wines & Spirits Wellington Seymour noted: "We're always thrilled at the level of engagement these kinds of promotions get from our customers.
"The entry response we received was really strong; I am sure many wanted to get away after the last two years.
"This is also a great way to say thanks to our customers who have really supported Corona beer since they entered the local market."
As the holiday season approaches, fans of Jimmy's Wines & Spirits and its many brands can expect even more opportunities to win.
"We are firm believers in giving back to the people who continue to support us and our brands," noted Seymour.
"We are working on new campaigns all the time and we're excited about launching those opportunities very soon."