NASSAU, BAHAMAS — The fate of Deputy Prime Minister and Minister of Finance Peter Turnquest could be determined following Cabinet deliberations, Prime Minister Dr Hubert Minnis indicated yesterday.
An untested writ of summons filed on November 16 alleges Turnquest's involvement in a $30 million "bogus loan" scheme, an allegation the minister has denied.
The official opposition has called on the minister to resign over the "scandal" or be fired.
When prompted on the matter, Minnis said: "It's a court matter right now and Cabinet [is] deliberating on it and we'll get back to you as soon as Cabinet completes our deliberation and discussion, okay."
When pressed on whether there were concerns of the case of alleged impropriety being brought a sitting Cabinet minister, the prime minister said: "Let me say again that Cabinet is deliberating on it and as soon as we're completed, we'll get back to you."
In the writ filed by law firm Scott & Co., Turnquest and Sky Bahamas Principal Captain Randy Butler were accused of defrauding a company.
Turnquest is not listed as a defendant in the matter, but the court documents allege he was a director and manager of Alpha Aviation Ltd. and Advanced Aviation Ltd., while Sky Bahamas and Aviation Oversight were at all material times, owned and controlled and/or managed by Butler.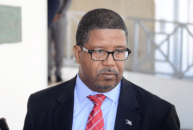 Butler has also denied the allegations.
Former Minister of State for Legal Affairs Damian Gomez has called on Turnquest to resign, asserting his resignation as a Cabinet minister would be in accordance with the convention of the Westminster system of government.
He also said the prime minister has an obligation to dismiss the minister in the public interest.
But another senior Queens Counsel has opined that Turnquest has no reason to resign at this stage over what has been labeled as untested and unproven allegations.
On Sunday, Progressive Liberal Party (PLP) Leader Philip Brave Davis criticized the prime minister's and FNM's silence on the matter.
He said: "It is time to hear from the prime minister from the comfort of his beach holiday in San Salvador. Silence suggests that the deputy prime minister does not have the prime minister's support. We demand answers."
Minnis was also asked if he believes the matter could affect the Free National Movement's chances at the polls in the next general election.
But Minnis said he believes the electorate knows his administration's heart, and the progress it has managed to make notwithstanding significant challenges, including two major hurricanes and an ongoing global pandemic.
"I think the people know exactly what we are doing. People know our hearts," he said.
"The people know the challenges we faced in terms of Irma when we first came in. We were challenged with Hurricane Irma.
"We were the first government to have embarked on an air evacuation in the south to ensure there were no deaths during that hurricane.
"And in spite of that, our economic programs and our program continued to move forward.
"And we were challenged with Dorian. And in spite of that, we continued to move forward. And now we're plagued with COVID, and the entire world is plagued with COVID, and in spite of that, we continue to focus our concentration on building a better Bahamas and preparing The Bahamas for the future."