Canada air arrivals trending upward for 2018
TORONTO, Canada: The Bahamas Ministry of Tourism and Aviation wowed more than 100 Canadian media, travel partners and tour operators with an innovative presentation to recap 2017 and give an outlook on 2018.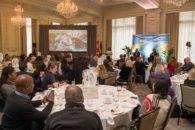 During an oversubscribed media luncheon, Minister of Tourism and Aviation, Hon. Dionisio D'Aguilar, and Director General, Joy Jibrilu, presented attendees with a detailed overview of what is new, updated and upcoming throughout The Islands of The Bahamas.
"The Bahamas is expecting a very robust 2018," said Minister D'Aguilar. "In short, the Bahamas is hot right now. The numbers will reflect that after a slow three-quarters of 2017, we ended the year on a high – December air arrivals from Canada were up a whopping 24.7 per cent."
Air arrivals from Canada are also trending upward for 2018, and according to forecasts, bookings are up approximately 24 per cent for the first seven months of the year.
"We all know that The Bahamas is a warm weather destination, but with the introduction of new brands in Nassau, and new developments on tap for several of the islands, the travelling public can refocus on The Bahamas with renewed interest," D'Aguilar said.
The Ministry of Tourism and Aviation's team in Canada is working on a robust marketing plan to further increase the number of travelers from that market.
"We have some exciting initiatives planned for television, radio and print in Toronto, Calgary and Montreal," said Jibrilu. "We are also working closely with our partners, the tour operators, to attract new visitors to our various islands. With direct service into Nassau, Exuma and Grand Bahama, we are an attractive destination for Canadian travelers."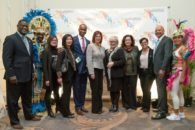 Bahamas Tourist Office (BTO) Canada pulled out all the stops for the luncheon. Bahama Mamas, Junkanoo models, gift bags with authentically Bahamian goodies, stunning video of the destination and Rake N Scrape playing in the background allowed attendees to escape to The Islands of The Bahamas for the afternoon.
"The response has been phenomenal," said Sr. Director of BTO Canada, Paul Strachan. "Canada is buzzing about The Bahamas thanks to this event. We had more media in attendance than any of our previous events. The media placement over the past few days has been priceless, and the attendees were blown away by the interactive format we used this year. The interest in The Islands of The Bahamas here in Canada is high."